New Firm Takes on Update of Williams-Addison House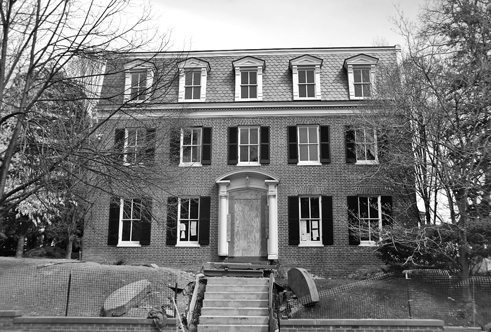 By Elizabeth Wiener
Current Staff Writer
Yet again, a development firm is trying to refurbish the historic Williams-Addison House in Georgetown to make it saleable as an elegant single-family home.
The 1817 house, gutted by a previous owner, has been vacant — and its site a messy construction zone — for about six years.
Last week architect Dale Overmyer presented plans for minor alterations to the house at 1645 31st St. to the Old Georgetown Board. The new owner, Brian Papke of Capital City Real Estate, did not immediately return calls from The Current, but Overmyer said the plan is a "speculative development."
Capital City is a construction and investment firm that produces "high quality residential properties" around the metropolitan area, according to its website. Many of the properties listed are downtown or in Adams Morgan, Dupont Circle, Shaw and Columbia Heights.
"These folks are committed to making it a wonderful house," Overmyer said of the Georgetown property, adding that the needed work could be done in less than a year. "It'll be beautiful, and on the market" sometime in 2013, he said.
But that will take some effort since a previous owner, Marc Teren, had stripped the interior of the historic house. He also tore up much of the land, including a tennis court, in a failed attempt to subdivide the roughly three-fourths-acre property — also known as the Friendly Estate — and build another house in the rear yard.
That plan was repeatedly rebuffed by the Georgetown board and city preservation authorities, and Teren got out a year ago, leaving construction fences, piles of dirt and brick, and a ravaged yard. Teren, too, could not be reached for comment.
Though developers Stanley Marks and Paul Hirsch of Maryland-based Mast Realty bought the eight-bedroom, 7.5-bathroom estate from Teren's Equity RG firm for $5 million in March 2011, they reportedly did no work. Instead, they sold to Papke and Capital City for $6.2 million in May 2012, according to the Redfin real estate website.
Members of the Old Georgetown Board have repeatedly said they will now allow only previously approved alterations to the main house, along with the addition of a two-car garage that was originally proposed to serve a new house.
At a hearing before the board last Thursday, Overmyer said there are no plans to enlarge the main house. But he said the new owner wants to "maximize space" by glassing in an open porch, putting in a patio and adding a chimney to serve fireplaces in three rooms. He also proposed a "parking court" for guests, and some new walkways around the house.
The board rejected the glassed-in porch, as well as a parking pad, patio and paved paths. "I don't see the need for any more pavement," said member Anne Lewis. "One of the beauties of this house is that it's set in a green lawn. You keep nibbling a little bit more," she told Overmyer.
But members did approve the new chimney, as well as a swimming pool in the rear yard — even though Teren had already excavated the basement of the historic house to put in an indoor pool. The raw concrete rectangle sits there now, unfinished. "We want to maintain it as an option for a purchaser," Overmyer said, as well as adding a "conventional pool" outside.
"A swimming pool is a reasonable thing to expect on a site like this," said board chair Stephen Vanze.
Overmyer, in an interview, said Teren actually did good work on the house itself. "It's a fine piece of construction," he said, with mahogany trim, fine stonework, "high-end new windows" and repointed brickwork. "They're good materials, but it's just not complete. The site is a mess, and sitting there is no good for anybody," the architect said.
The Williams-Addison House has a well-documented history, dating to the early 19th century when an owner named Williams carved it out of his larger holdings to create a home for a newly married daughter. It's often cited as one of the few remaining large or mid-sized estates in Georgetown, and the only one with its original boundaries intact.
But the estate suffered repeated indignities during Teren's ownership. According to the Georgetown Metropolitan blog, which sent a photographer inside in March, the interior has been "completely gutted," with Teren "removing pretty much any historic detail."
Also problematic are retaining walls Teren had built along 31st Street and Avon Lane, apparently not following approved plans. Now two parallel brick walls — taller than permitted — create a sort of sloppy moat around the estate's southwest corner. "Rather than do more damage, knock it down to the approved height," Vanze instructed Overmyer. "And no other retaining walls."
This article appears in the June 13 issue of The Georgetown Current newspaper.