New Egyptian Ambassador Opens Embassy for Art Show
Up-and-coming art and jewelry promoter Sylvia Ragheb has introduced a show of progressive artwork and sculptures at the Egyptian Embassy. On the scene greeting guests Thursday evening was the new Egyptian ambassador, Mohamed M. Tawfik who was celebrating contemporary Egyptian art and in recognition of the 25th anniversary of the Smithsonian Arthur M. Sackler Gallery.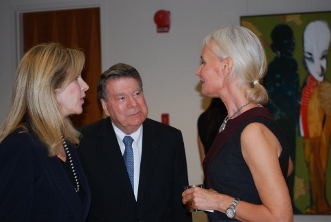 The embassy show runs for a month. (www.syra-arts.com). According to folks-in-the-know, the embassy is rarely a venue for art shows, so, to be sure, Ragheb scored a coup for her exhibition.
The 80 guests included Sama Iskander, of BG Group and his artist wife Sylvia Iskander. Others were Yasmine Ghorbal, Gina Elnaggar, Craig Appelbaum, Jane and Dick Stoker, Jane and Calvin Cafriz, Lori Jenkins, executive vice president and general counsel of the Washington Legal Foundation, and Barbara Hawthorn, the interior decorator who helped place and arrange the artwork at the embassy.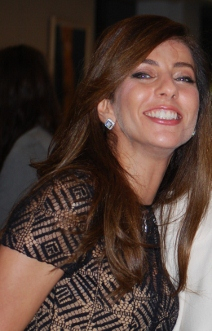 Ragheb plans to launch her first Egyptian jewelry show on Thursday evening November 15, in time for holiday shopping, at the Four Seasons hotel in Georgetown.
Ragheb, of Dutch birth, opened her first show earlier this year in the United States with a successful exhibition of Egyptian and Italian art at the respected ArtPalm Beach in Florida, followed by a six-month exhibition at the Washington Design Center.
"With the expansion of the communication and investment sectors, this has truly become a global economy," she says. "Now, many people are looking around to see what is available, what strikes their fancy, and what could appreciate in value over time." She sees great opportunities in America for superior jewelry and art from abroad. The line of jewelry is Azza Fahmy. (www.azzafahmy.com)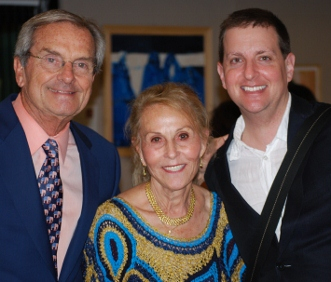 Ragheb resided in Egypt with her husband and children until moving to the D.C. Metropolitan Area. One piece of her elegant Egyptian jewelry was offered at the CharityWorksDC Dream Ball last month at the National Building Museum.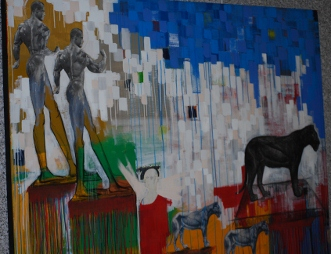 Among the painters and sculptors Ragheb represents are Adam Henein (known as the Godfather of Egyptian sculpture), Khaled Hafez, Adel El Siwi, Galila Nawar, Armen Agop, Ramses Marzouk, Essam, Darwish, Sameh Ismael, and Essam Marouf.