New bistro in Book Hill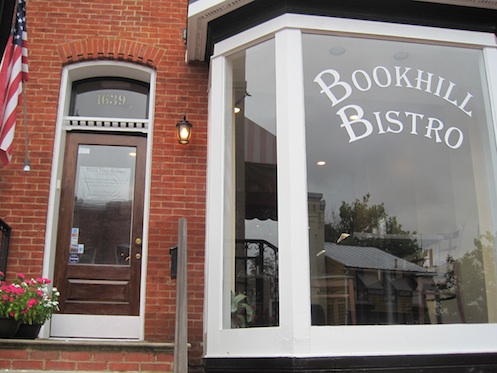 What used to be an art gallery has now been transformed into a versatile restaurant that is something to discover. Book Hill Bistro is a new affordable option for happy hour and brunch is a must-see for students and locals alike.
Lorena Fister, the Bistro's general manager, says this part of Georgetown is unique. "People stop at P. St., and they shouldn't. It's a nice walk up, and well worth it." The Book Hill area has many art galleries, which Fister urges customers to check out before coming to the Bistro for lunch. In the quaint bistro, Fister says, "you'll get that feeling that you're a part of something…it's a family." The Book Hill Bistro chef has been in the business for 30 years. He ran his own restaurant and has been cooking with his son as well. His clientele is mostly based in downtown Washington. Fister recommends the savory specialty duck breast with wilted greens and blueberry sauce. Fister comes to the Book Hill Bistro with an extensive wine background. As the wine selection is carefully done, she says, "you complete a meal with wine." The Bistro is currently featuring California, French, and Southern hemisphere wine. The best summer wine is the Dr. Loosen Riesling, Spotlese, Germany (2009). The fall wine is typically a Pino, Chardonnay, or Burgundy, and the winter wine is mostly California's and heavy Italians.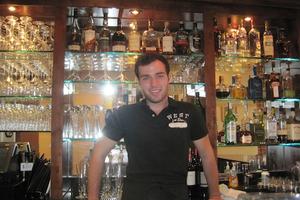 Happy Hour features original cocktails like the Dirty Politician and Duvet Rouge. The Bistro has an outdoor patio and spacious second floor open for events like bridal showers, birthday parties, meetings, and even Irish step dancing. The Bistro also offers catering for special events. For Sunday Brunch, the Book Hill Omelet is highly recommended. It has three eggs with smoked salmon, shallots, and herbs with home fries. A delightful specialty! Other brunch favorites include steak and eggs, eggs benedict, and the Croque Monsieur sandwich. Fister says they will be switching over to the fall menu shortly. What makes Book Hill Bistro unique is its' quaint location nestled into the tight-knit community of Book Hill. It has an appealing "Tribeca, Soho-esque atmosphere," according to Fister. Its' brick walls opposite white walls will soon feature modern art to match its' interior design décor, contemporary chic. Students and couples alike are welcome for happy hour and Sunday brunch. Fister stresses that they are a local business that aims to thrive instead of being a chain restaurant. She confidently says on behalf of their fresh, young, new team, "we have a lot to offer here and we are ready for a nice clientele." For Georgetown's Fashion's Night Out on Thursday, September 8, 2011, the Book Hill Bistro will have a happy hour special and will be donating to the cause. Furthermore, the Monday night happy hour features ½ priced bottles each week. Book Hill Bistro is located at 1639 Wisconsin Avenue NW, between Q and 33rd Streets. The Bistro has late hours throughout the fall: Mon. – Weds, 10:00 a.m. to 12:00 a.m.; Thurs. – Sat., 10:00 a.m – 12:00 a.m, and Sunday Brunch from 10:00 a.m. to 3:00 p.m. Happy hour is Mon. – Sat. from 4:00 p.m. to 7:00 p.m. http://www.bookhillbistrodc.com/ Tel. 202.338.0001.