Neighbors Seek Pause on Ellington Construction Project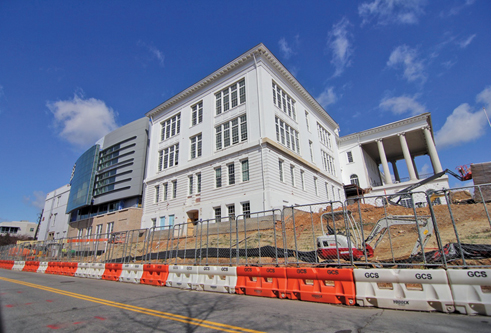 By Mark LiebermanCurrent Staff Writer
After complaining for more than a year about problems associated with the renovation project at Duke Ellington School of the Arts, neighbors are now looking toward more decisive action.
Residents who live near the Burleith campus at 35th and R streets NW say they've made repeated requests for relief from construction hassles like contractors parking illegally on their streets, loud noise at inconvenient times and debris left behind in their otherwise picturesque residential neighborhood.
Last week the ad hoc Duke Ellington Transportation/Management Committee took a further step: asking Sigal Construction and the D.C. Department of General Services to shut down the project until the concerns are ironed out.
The Ellington committee was formed at the outset of the arts school's renovation to connect community groups and residents with the project team. Committee member Ed Solomon — who is also a member of Advisory Neighborhood Commission 2E (Georgetown, Burleith) — delivered the shutdown request in a May 4 email to Sigal and relevant D.C. officials.
A meeting between stakeholders and Sigal executives is now scheduled for today, and neighbors plan to once again relay a litany of grievances.
"Shutdown is a measure of last resort," Solomon said. "The contractor is working hard and hiring more people. We want the project completed soon as possible. But I have to balance that against the complaints of the community and get some resolution."
Representatives from Sigal did not return requests for comment in time for publication.
The massive renovation, scheduled to wrap in time for students to start there this fall, is expanding Ellington's arts facilities with a new theater, additional classroom space and other upgrades. The project's current budget of $177 million has exceeded the original estimate by nearly $100 million.
Finishing the project on time has high stakes — Ellington students have been occupying temporary space at the Meyer Elementary School campus at 11th and Clifton streets NW since fall 2014, but that facility is scheduled to host Hyde-Addison Elementary students beginning this fall for two years during that school's renovation.
To meet that oncoming deadline, the Ellington project has recently increased the number of construction workers on site, according to Jackie Stanley, spokesperson for the General Services Department.
One of the latest community frustrations stemmed from an after-hours permit granted on April 27 to contractors for Sunday work that can take place from 9 a.m. to 5 p.m. from May 5 to June 4. Solomon and other community stakeholders say they received no notice that contractors were seeking a permit, nor a concrete explanation for why they needed it.
Other issues have reportedly worsened from earlier conditions. According to information provided to Solomon by Sigal Construction, more than 300 workers come to the site each day, including approximately 200 drivers. Several residents have been in repeated contact with the Metropolitan Police Department and the Department of Public Works to urge a crackdown on parking enforcement — to little avail, they say.
According to Stanley, Sigal is shuttling workers from off-site locations, but neighbors say problems persist. Eric Langenbacher, president of the Burleith Citizens Association, said he's started receiving more complaints about the project during the last three weeks. "When you have hundreds more cars on the streets, there's a ripple effect through the neighborhood," he said.
The issues also extend to the nearby Washington International School, located at 1690 36th St. NW right behind Ellington. Dale Temple, the school's director of facilities and operations, said pickup and dropoffs at the primary school campus have been disrupted by the presence of as many as five construction trucks waiting to unload on the street. In general, when the school has complained to Sigal, the problems have gone away temporarily, only to return in full force, Temple said.
"There doesn't appear to be a plan for how these trucks arrive, where they deliver, how they're being directed," Temple said. Litter and dust have also been issues for the school, he said.
Neighbors also predict the construction impacts may start bleeding south of Burleith into Georgetown as the project races toward its conclusion. Citizens Association of Georgetown president Bob vom Eigen told The Current he has recently seen contractors parking on 35th Street NW near the Georgetown Visitation Preparatory School field. Dan Herlihy, a 35th Street neighbor of the school, said he's seen them on 34th near Q as well.
More isolated incidents involve contractors behaving inappropriately near residences, according to neighbor accounts. "I had guys sitting there smoking a joint in front of our house a couple months ago," Herlihy said. "It's just been one thing after another."
Solomon and others maintain optimism that their request for a shutdown will yield results. Neighbors still want the project to succeed, Solomon said.
"We've tried to address every request they've made," he said of the construction team. "When they go ahead and just do one more thing such as the Sunday work without notifying us … we felt that was the tip of the iceberg."
This article appears in the May 10 issue of The Georgetown Current newspaper.