Neighbors march against AU plan and gridlock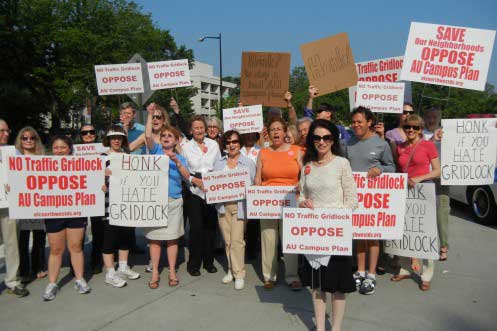 Some 75 residents living near American University marched around Ward Circle during the Thursday morning rush-hour to demonstrate the "gridlock" they fear will result from AU's expansion proposals. With their "Stop the AU Plan" buttons and signs that said "Honk If You Hate Gridlock" and "Save Our Neighborhoods, Oppose AU Campus Plan," the marchers crossed the crosswalks to illustrate the increased congestion that they predict will come with the AU expansion, as well as from the planned development of the Department of Homeland Security on the east side of Ward Circle.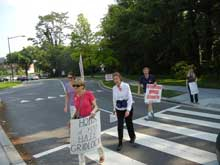 "Honk if you hate gridlock, stop AU expansion," they shouted to the motorists in the warm-to-hot, rainless weather encouraged the marchers with the car-driving commuters generally yield to pedestrians in the crosswalks and showing their support with a toot of their horns in response to the "hate gridlock" invitation. MPD Officer Kevin Brittingham from the 2nd District exhibited a firm-friendly manner as he made sure that everybody followed the rules-of-the-road. He only had to admonish one driver of a convertible to stop for the pedestrian/marchers.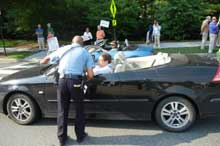 These twin expansions will "cause complete paralysis and be a significant safety hazard to students, employees and neighbors," said Susan Farrell, one of the community leaders. She highlighted the AU plans to build dorms for 740 students around the Circle, including 590 beds and other facilities to replace the 8-acre parking lot at Nebraska and New Mexico Avenues.
Another leader, Mary Ellen Fehrmann, focused on the DHS plans: "Add in the double whammy of the Department of Homeland Security increasing its workforce by about 1800 and you have a traffic gridlock nightmare."
Camille Lepre, senior director of University Communications was on hand for AU. "The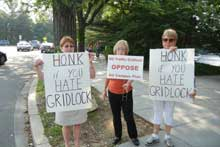 University has made changes to the plan in response to the concerns and discussions with the community," she said. These include reducing the size of the dorm proposed for the Nebraska Avenue parking lot (from 770 to 590 beds), a pedestrian-activated signal at the Nebraska Avenue exit of the lot and several measures to lessen the impact of the student housing on the adjacent townhouse neighbors, including lowering the height of the AU buildings, reorienting them away from the existing residences and increasing the buffer zone between the new dorms and the neighbors.
The AU protest was the first major demonstration against university expansion plans that have come from institutions across the District. Specifically, the DC Zoning Commission is currently considering plans submitted by Georgetown University and the University of the District of Columbia/Van Ness Campus and recently approved the Catholic University plan.
The hearings on AU start on Thursday, June 9th before the Zoning Commission.