Neighbors Fight Plans to Enclose Georgetown Alley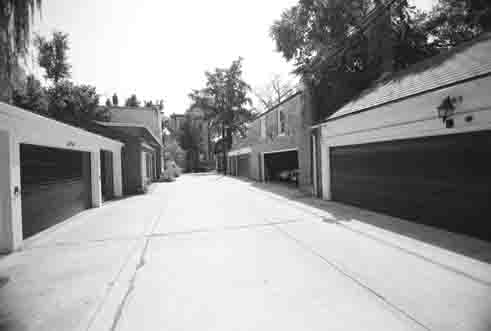 By Brady HoltCurrent Staff Writer
To Georgetown residents living on parallel stretches of O and N streets between Potomac and 33rd, the open area in the middle of their block is the public alley that gives them rear access to their homes. The D.C. Department of Transportation appears to agree, having repaved the space upon neighbors' requests about 10 or 15 years ago.
But when the city auctioned off various properties at tax sales a few years ago, it instead treated this site as five small private lots totaling about 3,000 square feet. And much to the outrage of residents, the new owner of all five lots — a Rockville investor — is seeking permission to fence in that property.
"I think it's one of the most absurd things I've ever heard," an O Street resident said at Monday's Georgetown advisory neighborhood commission meeting. "As far as we're concerned, this is a public alley. We use it, our neighbors use it. It's used by anybody who owns a home and wants to park in their garages."
Landowner Kebreab Zere said that's the reason he needs the fence. "I need security. People are trespassing," he said in an interview after the meeting.
At the meeting, Zere defended his right to the space, pointing to decades of ownership history. "It's not an alley — it's a private vacant lot. They have the subdivision in [the Department of Consumer and Regulatory Affairs] as a lot; I pay tax on it," he said.
Neighbors responded that they also have documentation of their property rights to a rear alley, and they called upon city officials to clear things up.
Michael Fabrikant of the D.C. Office of Neighborhood Engagement said the city intends to address the issue, and he said plans are in motion, but he wasn't ready to publicly describe the actions officials will take.
According to neighborhood commissioner Jeff Jones, similar situations appear to affect some other Georgetown alleys, though an individual seeking to close one off is unprecedented.
Residents speculated that Zere hopes to use the fence as leverage to sell the land to neighbors or the District. He told The Current that his goal is to develop the land, but he added that he might also be open to selling his lots.
Neighbors do have extra protection from the fence plan because Georgetown sits within a federal historic district. The neighborhood commission unanimously urged the Old Georgetown Board design review panel, part of the U.S. Commission of Fine Arts, to reject Zere's application for a chain-link fence — both because the application lacks detail and because it would be out of character for the community.
Zere said he is open revising the fence but intends to enclose the area, "it being my constitutional right to use and dispose of my property."
The Old Georgetown Board is due to consider the issue at its monthly meeting tomorrow.
This article appears in the July 2 issue of The Georgetown Current newspaper.