Neighbors demonstrate against American U expansion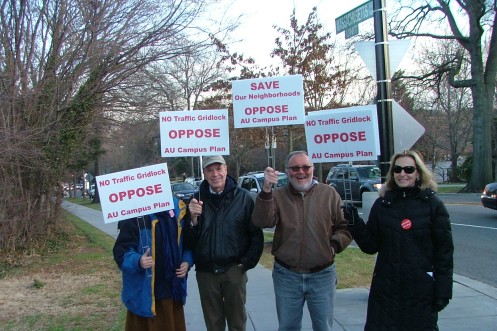 A group of residents from the Spring Valley and Wesley Heights neighborhoods, opposed to American University's plans to expand its campus along Nebraska Avenue and at Tenley Circle, demonstrated on Monday along Ward Circle. Holding red-on-white signs that said "No Traffic Gridlock OPPOSE AU Campus Plan," they greeted drivers negotiating the evening rush-hour.
While, the immediate complaint was the apparent recent harassment of one of their members, Jerry Gallucci, by the American University police who told him they would take action if he entered the campus, more broadly the sign-holders are opposed to AU's plans to build dorms in the parking lot on the south side of Nebraska Avenue and the expansion of the law school from 1,770 to 2,000 students and moving it to Tenley Circle from Massachusetts Avenue below Westmoreland Circle. They point to the cumulative effects of the AU dorm plan and the proposed 75% expansion of the Department of Homeland Security on the other side of the Massachusetts Avenue.
"We won't be able to cross Ward Circle," said Judy Berson, one of the sign holders.
"AU acts like a school-yard bully," said Gallucci, referring his view that AU completely ignores the effect their plans will have on both the AU and non-AU communities.
Overall the residents dread increased traffic and parking and an upheaval in the fundamental character of the neighborhood.
Neighbors for a Livable Community, the residents' group, has come up with a specific alternative to the development of the Nebraska Avenue parking lot. Rhodeside and Harwell, an urban planning firm, has calculated that 1400 additional students could be housed on the main campus.