Neighborhood Friendly La Forchetta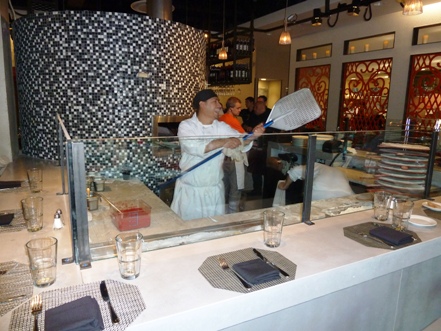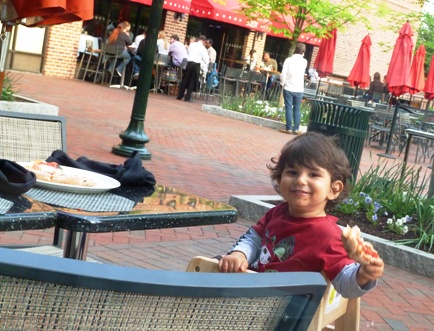 Even without the celebrity buzz, La Forchetta is a welcome addition to the neighborhood. Wesley Heights, that is. After well-publicized legal problems for the James Beard Award-winning chef, Roberto Donna is back. But this time, in the (open) kitchen only.
This is a decidedly family oriented eatery on New Mexico Avenue in the comfortable open space Sutton Place once occupied. Café style outside, and inside, bar seating around a huge oak-burning black-and-white tiled pizza oven.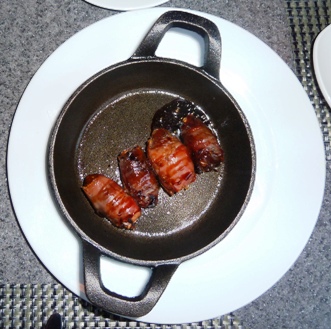 Focusing on home-made pastas, risottos and pizzas, the menu is as friendly as the modern tangerine décor with signature orange fork hanging on the wall.
It was packed Tuesday evening when The Georgetown Dish was there to check it out. A mix of couples with small children, neighbors rambling in, and a happy hour work crowd blended seamlessly.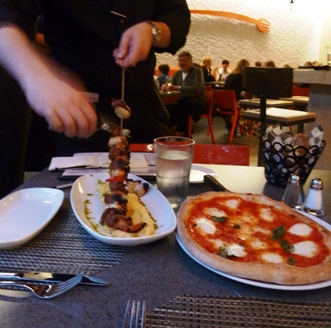 We started (and continued with) a Dolcetto from Pecchenino. With the prosciutto wrapped gorgonzola-stuffed dates (and a honey-balsamic drizzle), the wine held its own against the rich flavors.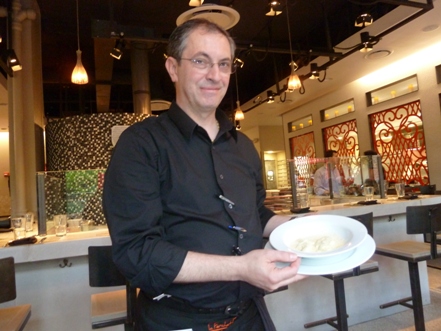 The must-try pillow pasta we chose was filled with ricotta and spinach and mascarpone sauce. Next, pork sausages and chicken cubes on a skewer which we requested served along with our Margherita pizza. The tomato sauce, unusually smooth and subtle was reminiscent of Galileo's.
With coffee, the Hemishere Tiramisu arrived, and true to its name, in a luscious dome creation with hot chocolate on the side.
Buon Appetito!
La Forchetta is at 3201 New Mexico Avenue, NW. Tel: 202.244.2223