My Mother Was Right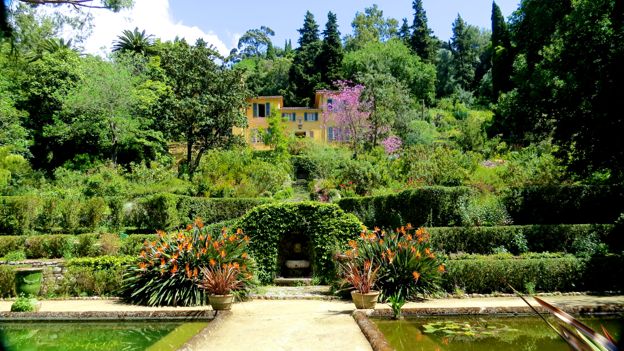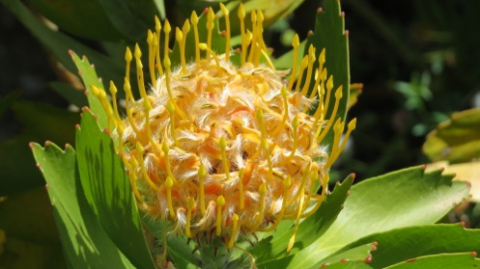 My mother always told me that the best way to dispel discontent is to think about something happy. As snow and cold ushered in the month of March like a polar lion on the prowl, burying hellebores and barely nascent snowdrops, I took my mother's words to heart and found something very happy to think about: The Jardin Serre de la Madone in Menton, last stop on the French Riviera before the Italian border.
Lawrence Johnston, who bought the property in 1924, created Serre de la Madone which he owned until his death in 1958. Born in France to an expat Baltimore financier and his English wife, Johnston became a British citizen and fought in the Second Boer War in South Africa after finishing his education at Cambridge. Major Johnston, a man of independent means, was a passionate plantsman, so when his mother purchased Hidcote Manor in 1907, he set to work creating what is now one of Britain's most famous and influential gardens.
He applied the lessons he learned at Hidcote to Serre de la Madone, much less famous, and is the only other garden he created. It was here that this very private man brought the tender exotic plants he adored to be tended by a team of 12 gardeners, and where he could experiment with the hundreds of plants he collected, purchased, and was given. While the likes of F. Scott Fitzgerald, Somerset Maugham, Pablo Picasso, Coco Chanel, and others cocktailed, wrote, painted, and designed in the more glamorous nearby Riviera towns of Cap Antibes, Villefranches, and Monaco, Johnston traveled the Alps, South Africa, and Yunnan Province, collecting specimen plants and converting the ancient, terraced hill-side olive orchard into a sophisticated garden and aviary. In spite years of neglect after his death, and with the help of a recent renovation, Serre de la Madonne still embodies his passion so intensely it seemed his spirit was present last spring when I was fortunate enough to visit.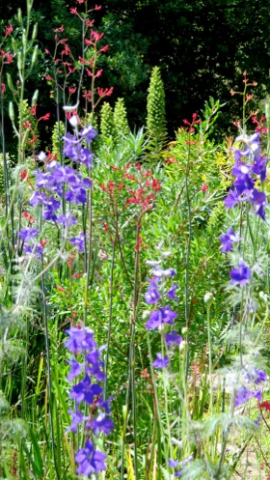 Now, as we are once again surrounded by slush and melting ice, it is delicious to remember arriving at the warden's lodge at the bottom of this uniquely peaceful place. The terracotta-colored lodge, its teal shutters nearly hidden by an enormous climbing white rose, is small and full of gifts and books. When you walk through the lodge and step out the back onto a tiny shaded terrace you enter the magical path that leads up to the villa.
The garden, now maintained by the Conservatoire du Littoral and other organizations, is somewhat derelict but forgivably so, because it is a herculean task to maintain 25 terraced acres of intricate planting. In a way, its rumpled state enhances its charm. Maundering toward the villa from the lodge, slowly taking one hairpin turn after another in the gentle play of sunlight and shade, you progress from the informality of the entrance toward the formal gardens near the villa. You are in another world.
The plant collector's obsession is everywhere in evidence along these lower walks, with orange and yellow proteas and sunset orange alstroemerias from South Africa blooming beside pink centranthus and blue salvias, jumbled amongst a variety of palms, yuccas, and other exotics, and thriving amidst a complex tumble of native plants. Many of the imports and natives have gone to seed, proliferating and thriving exuberantly side-by-side beneath Asian magnolias, giant umbrella pines, bamboo, and eucalyptus.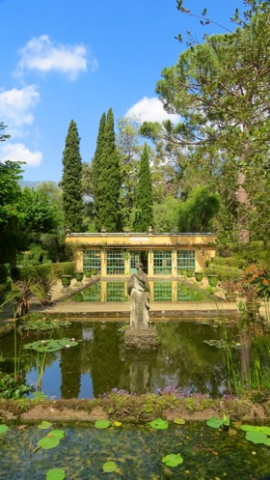 Major Johnston was well known for his plant combinations at Hidcote, having drawn inspiration from the likes of Gertrude Jekyll and William Robinson, and it is indisputable that he applied this gift at Serre. I especially loved how, in one bed, he mixed Larkspur (delphinium) with kangaroo paws (Anigozanthos) from Australia, and Mediterranean Euphorbias. The rich colors – blue, burgundy, and chartreuse -- and textures – spiky, fuzzy, and soft -- blend beautifully in shards of light and patches of shade, revealing his gift not only for combining color and texture but also his gift for knowing what plants are compatible and will grow well together.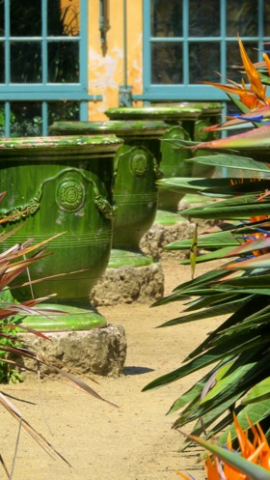 What makes Serre magnificent is that Johnston balanced his plant collecting and experimentation with fantastic and durable design. This balance becomes obvious when, after climbing halfway up the garden levels, each turn leading to a new plant combination and ever more significant statuary, stone steps, planters, and pergolas, you arrive at a terrace of garden rooms that are as rich in design detail as in diversity of flora and fauna. The honey-colored villa presides from above, and "Mrs. Johnston", the female statue at one end of a formal pool edged with green Anduze urns, gazes watchfully, at the Orangery at the other end. It was in this Orangery, amidst tender citrus trees, that fellow plant collectors, some of whom Johnston sponsored, must have revealed their treasures and recounted their adventures, and where Johnston nurtured his most precious plants. The small green bistro table and chairs must have been used as frequently for afternoon tea or perhaps a drop of absinthe on lemon-scented evenings as they were for taking cuttings and sorting seeds.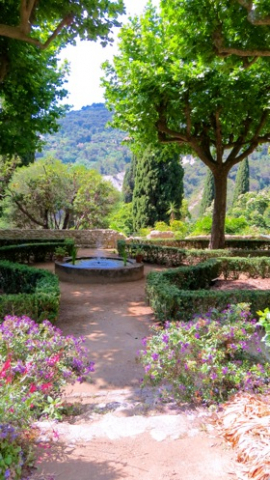 It is on this level that the formal gardens really come into their own and that the views of the surrounding hills begin to become part of Johnston's composition. You need only to walk along the beige gravel walk a short way, past a circular pool, to reach the terrace where the valley below and the hills beyond are visible through olive trees older than the garden itself, mature cypress trees, and the fronds of imported palms. Gazing from this lush, green paradise at the rocky, arid Mediterranean landscape is like looking from an oasis at the desert beyond. A few moments sitting on the stone wall and contemplating this contrast is the restorative equivalent, I'm sure, of days of quiet meditation.
Of the several other enchanting garden rooms that make up the upper portion of the garden, I especially loved the Moorish terrace. It is a small space adjacent to the west of the villa and features a rectangular pool of water with water jets reminiscent of the lost gardens of Islam, planted with feathery papyrus, and surrounded by clipped hedges. There are views of the lower gardens on one side of the terrace, and tall shade trees preside above it on the other. The terrace is adjacent to a loggia decorated with Moorish tiles and offering shade on hot days. One can well imagine Johnston sitting here on warm Mediterranean evenings, shirt sleeves rolled up and a straw hat laid absent-mindedly to the side, listening to the play of water and chatting with friends. How lovely it must have been to be one of his guests, sipping a glass of wine, nibbling locally grown olives, and contemplating where possible locations for latest shipment of unusual bulbs, and how robust the giant calla lilies are, and daydreaming about where to put a new statue.
Daydreaming, in fact, is what this is all about. Lemon trees, Mediterranean nights, and remote garden walks lined with beautiful flowers and shrubs -- So much happier than icy March sidewalks and delayed openings. My mother was right.