My Favorite Holiday Recipe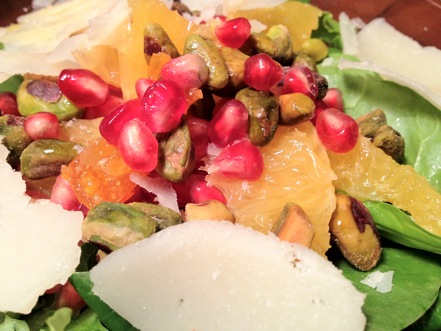 The simple pleasures in life always bring me the most joy. I especially love the holidays because it's a time of year I get to spend precious moments with my family and friends. One of my favorite traditions is an annual "girls get-together" with 3 of my favorite girlfriends. We feast on the most fabulous "girl" food, share stories about our lives, and exchange thoughtfully chosen gifts. I'm always asked to bring the "salad," which is really so much more. This "salad" is a feast for the senses: salty, sweet, tart, crunchy - every texture, flavor and color imaginable. Developed by Persian Chef - and Georgetowner - Najmieh Batmanglij, it is a holiday home-run.
Winter Salad of Orange and PomegranateBy Najmieh Batmanglij in "Cooking With Les Dames d'Escoffier"
4 servings
Ingredients:
1 Cup (about 1 large pomegranate) pomegranate seeds4 to 6 Large Naval Oranges, peeled and cut into section, membrane removed¼ Cup Finely Chopped Candied Orange Peel (store-bought or home-made)½ Cup freshly squeezed Orange Juice1 Tbsp freshly squeezed Lime Juice1 tsp Orange Blossom Water8 ounces Sheep's milk cheese, such as Pecorino Romano OR aged Goat Cheese, cut into shavings with a potato peeler (I use only 2 ounces)1/3 Cup Chopped pistachiosPistachio Oil or light-bodied Extra-Virgin Olive Oil
Instructions:
In a bowl, combine the pomegranate seeds, orange segments, candied orange peel, orange juice, lime juice and orange blossom water. Cover and chill in the refrigerator for at least 30 minutes. To serve, distribute the fruit mixture among 4 plates. Alongside the fruit, place a portion of cheese and top with the chopped pistachios and a light drizzle of oil. Serve immediately.