Muses and Beads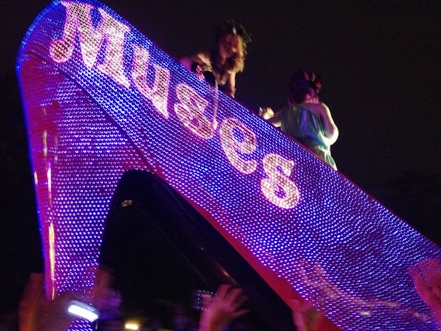 When my now husband and I started seriously dating, the topic of Mardi Gras came up very early on. I had always heard about this New Orleans celebration, and I thought I knew what it was all about (beads, right?), but over the last few years I have truly learned to appreciate the meaning of this special day, really, this special weekend.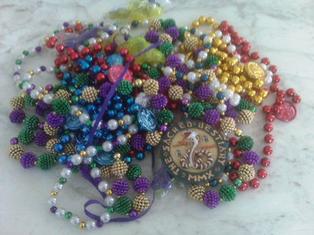 Of course, the clichés about Bourbon Street, beads, and what ladies (and gentlemen) are ready to do to get the really good ones are only partially exaggerated. But truly, Mardi Gras is about friends, about fancy beaded dresses, about celebrating life and its many pleasures, before the arrival of Ash Wednesday.
I have learned a few new English words, such as "krewe." pronounced as "crew." Krewes are the organizations that put on parades and/or balls during the Carnival season. Being a member of a krewe has quite the social cachet, and is quite expensive.
While most krewes are men-only, there are three that are exclusive to women. My favorite, of course, is Muses. First off, its symbol is a shoe, and it really has the best floats. And while strange things happen on Bourbon Street to catch beads, the excitement of seeing the parades on St. Charles Avenue has nothing to do with showing skin, and everything to do with catching the best possible bead.
My Mardi Gras started on Thursday evening, when Muses rode to kick off the really fun parades. The festivities continued on Friday, the day of my friend Angie's annual Mardi Gras Luncheon.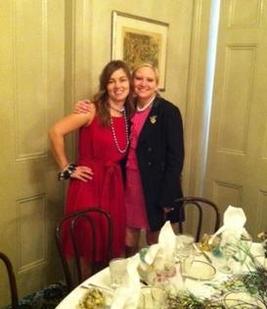 Hosted in a private room at Arnaud's, Angie brings together 11 of her best friends for a five hour lunch filled with champagne, famous dishes such as Shrimp Arnaud and Turtle Soup, and lots of laughs. Arnaud's (and Antoine's and Galatoire's, the other two classic New Orleans restaurants) is taken over by Mardi Gras luncheons, and by ladies in costume and hand-made beaded dresses.
After lunch, around 4:00 pm, we strolled through the French Quarter, with stops at two of my favorite bars, Lafitte's Blacksmith Shop and Cosimo's. The scene is picturesque, sometimes political, and overall the perfect ending to a Friday afternoon filled with more pleasure than work. Luckily, Cosimos's is literally across the street from my New Orleans home, and while by then my feet hurt, I made it home thrilled to have experienced another successful start to Mardi Gras weekend.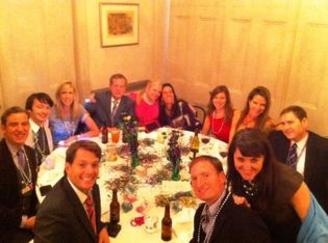 The rest of the weekend was a bit mellower, with visits to Frenchman street for some fabulous live music, and dinners (not five hour dinners) with friends. By the time you read this, it will actually be Mardi Gras, Fat Tuesday, the last day of Carnival.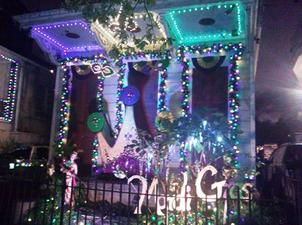 At midnight precisely, the New Orleans streets will be cleaned, broken beads will be thrown away, and people will focus on Ash Wednesday – and what to give up. I have only started giving something up for Lent since I have started partaking in the Mardi Gras celebration. If I do one, I must do the other, right?
This year, I am giving up artificial sweetener in all its forms (Splenda, Equal, whatever is in Diet Coke). Wish me luck …