Culture
|
November 20, 2022
|
Much Ado About Nothing
A fun time at the theater with a Shakespeare production in a modern-day setting.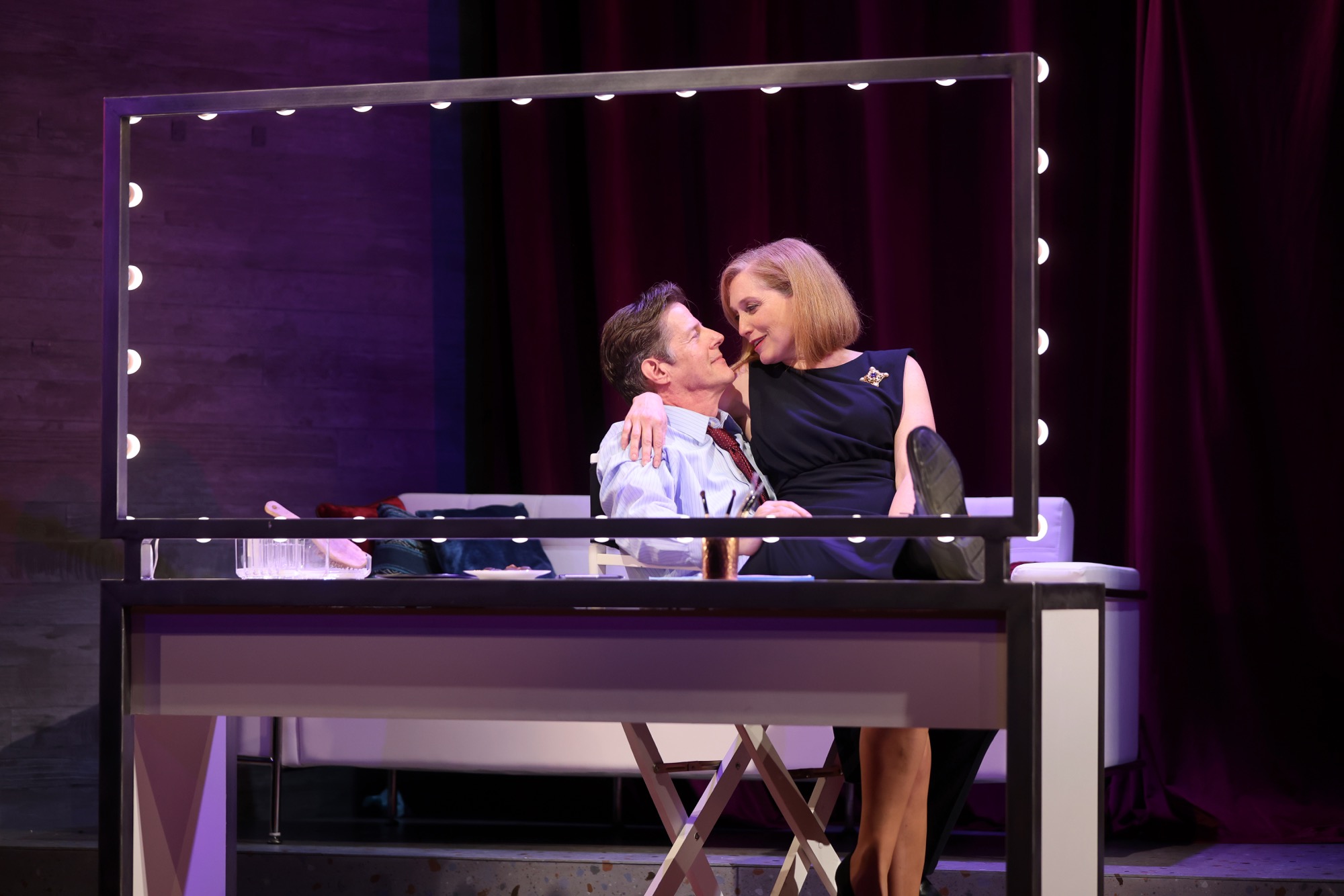 When you go to see Much Ado About Nothing at the Shakespeare Theatre, be prepared for something very different than you might expect. For anyone not knowing the play Wikipedia has a simple synopsis; "Much Ado About Nothing is a comedy thought to have been written in 1598 and 1599. The play was included in the first folio published in 1623. The play is set in Messina and revolves around two romantic pairings that emerge when a group of soldiers arrive in the town. The first, between Claudio and Hero, is nearly altered by the accusations of the villain, Don John. The second romance, between Claudio's friend Benedick and Hero's cousin Beatrice, takes centre stage as the play goes on, with both characters' wit and banter providing much of the humour."
In this production, while the words of Shakespeare are there, the setting is a modern-day CNN type newsroom aptly named, Shakespeare News Network (SNN). The play is introduced with a short video by CNN anchor Wolf Blitzer. There is something initially slightly jarring about the production. But once you settle into it you realize Simon Godwin, Artistic Director of the Shakespeare Theatre Company, who directed this production, is brilliant. One can only try to imagine how his mind works to come up with all antics on stage. From some base humor, to slapstick comedy, it all just seems to work. The scenes when Beatrice and Benedick are crawling around the stage, hiding behind a plant, or in Beatrice's case behind a cardboard cutout of herself, ending up in the garbage, drew great laughs and applause from the audience.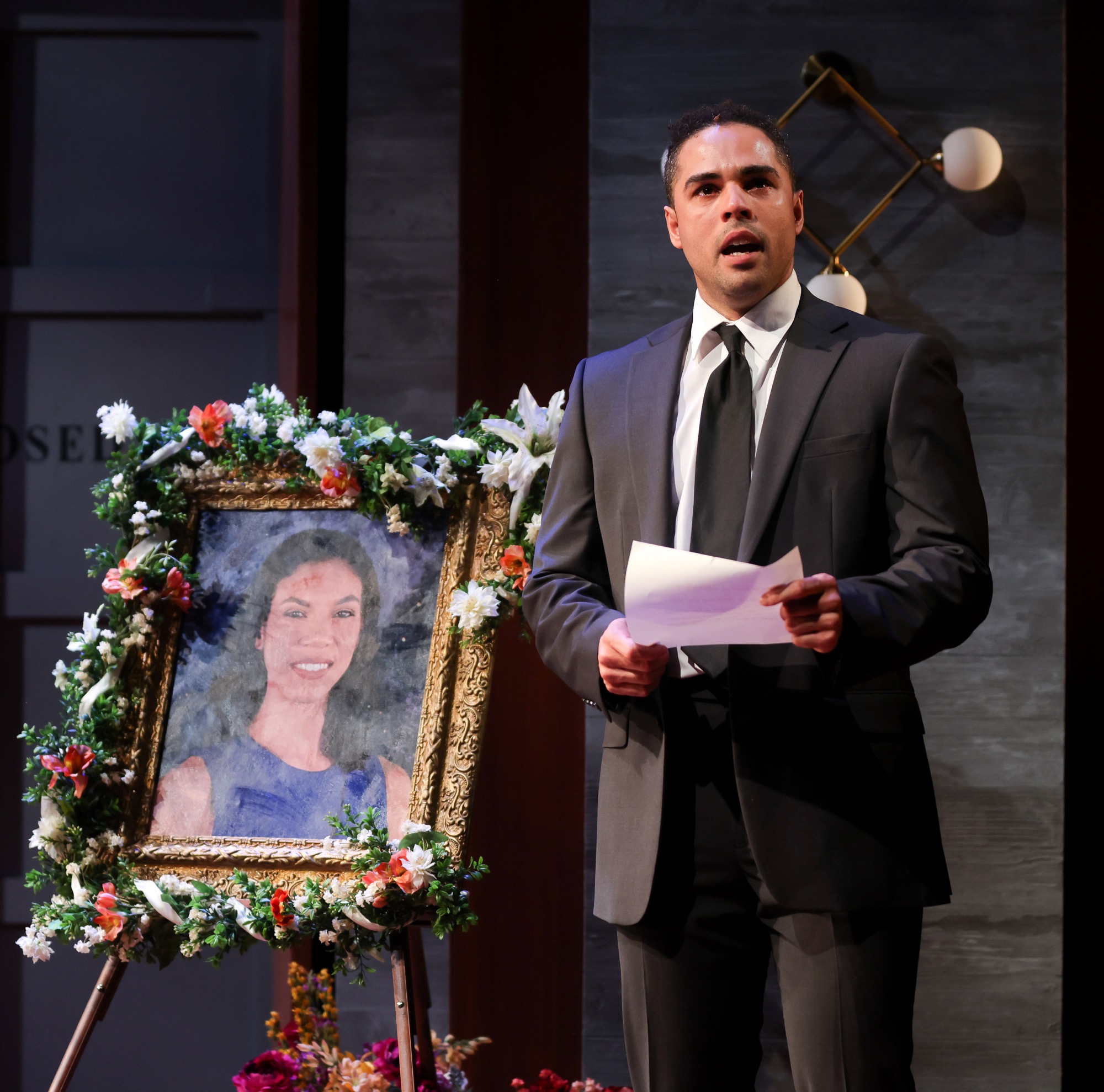 The first thing your senses are hit with is the set. It is amazing and a big part of the play. Scenic Designer Alexander Dodge deserves hosannas for his work. The revolving set moves the play along at a great pace and is incredibly creative. When the play opens you face a TV newsroom setting that is wonderful, with Beatrice and Benedick as anchors, telling the story. They get great laughs every time they appear in the play as anchors talking about 'breaking news' and using lines from other Shakespearian plays. Adding to the play's enjoyment is the creative work of Donald Holder, Lighting Designer. Then there is Evie Gurney, Costume Designer. Her work is wonderful, especially the costumes for the masquerade ball. They are all modern day with a tack back to the disco era; all are fun to see. The entire creative team is superb and includes Fan Zhang, Sound Designer; Michael Bruce, Composer and William Yanesh, Music Director.
The basic story of Much Ado About Nothing is definitely there, but at times you have to make yourself remember that as you get caught up in the theatrics of the characters in modern day dress, and modern settings. 
The acting is uniformly great. Kate Jennings Grant is wonderful as Beatrice and is complemented by the equally wonderful Rick Holmes as Benedick. Paul Deo, Jr. has a presence that commands the stage whenever he speaks as Claudio. Then there is Edward Gero, great as Leonato. Again, the entire cast is immensely talented and all perfect in their roles.
Much Ado About Nothing will be at the Shakespeare Theatre, Sidney Harman Hall, through December 11, 2022. Get your tickets now for an absolutely fun time in the theater.
One thing to know is masks are required on different days. All STC productions performed on Tuesdays, Wednesdays, and Sundays will require audience members to remain masked at all times—including during the performance—except when actively eating or drinking. Mask Recommended Performances: All STC productions performed on Thursdays, Fridays, and Saturdays will be mask optional (but recommended). My personal take is that it is good to remember Covid is unfortunately still around, and protecting yourself and others is important.