Mophie Juice Pack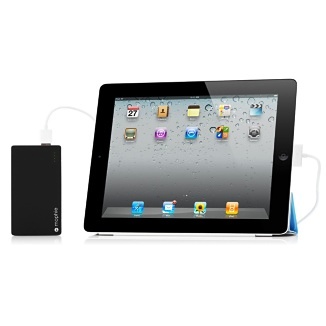 Shouldn't take a monster storm to remind us that staying connected is essential.
This stylish and compact battery charger for all our mobile devices comes in black and red. Here's how Apple describes it:
"The Mophie Juice Pack Powerstation External Battery for iPhone, iPod and iPad includes a special high-output battery the provides ultra-fast charging. It charges at up to four times the current offered by traditional 500mAh batteries. The Powerstation can also switch between a 500mAh charge (typical), a 1A charge and 2.1A; which is great for iPad."
Advanced battery cell delivers fast charging system
Can switch among 500mAh, 1A and 2.1A charges
Sustainable design gets more power to your iPhone, iPod or iPad
Ultra-compact design makes it easy carry
Stylish soft touch exterior with metal side design
Six-light "invisible" LED status indicator
Large 4000mAh battery for plenty of power
$79.95
Apple is located at 1229 Wisconsin Avenue. Tel: 202.572.1460