Monaco's Ambassador Hosts Event for New Smithsonian Institution Secretary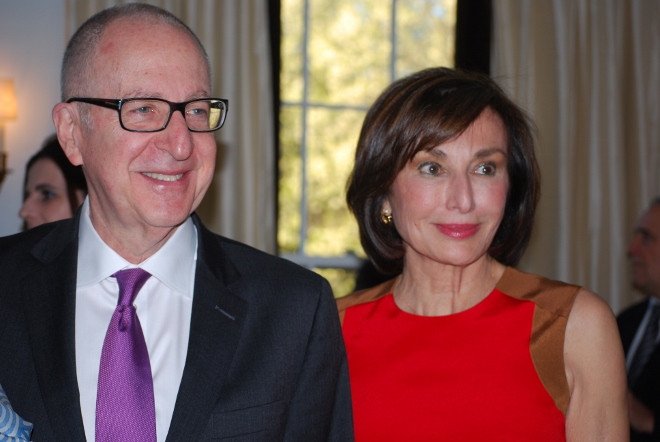 A springtime diplomatic reception to introduce the newest Secretary of the Smithsonian Institution -- Dr. David J. Skorton -- to 70 VIP guests was hosted by Monaco Ambassador Maguy Maccario Doyle at her Kalorama residence Tuesday night.
Dr. Skorton had been president of Cornell University and the University of Iowa. He is a cardiologist and expert in adult congenital disease and cardiac imaging. He was appointed to the Smithsonian post last year.
Among the guests were the U.S. Department of State's Chief of Protocol Ambassador Peter Selfridge and his wife, Parita Shah. Senior Smithsonian Institution officials included John McCarter (Chair, Board of Regents), Kirk Johnson (Director of the National Museum of Natural History), Julian Raby (Director of the Freer/Sackler Galleries of Art), and Molly Fannon (Director of International Relations).
Senior diplomats attended from countries - many of which have a partnership with the Smithsonian - as diverse as France, Belarus, Bulgaria, Chile, Croatia, Gabon, Grenada, Guatemala, Hungary, Iceland, Indonesia, Korea, Kosovo, Liechtenstein, Mexico, Mozambique, The Netherlands, Slovenia, and Trinidad and Tobago.
Special guests included Arvind Manocha(CEO of Wolf Trap Foundation for the Performing Arts), Alicia Adams (VP, John F. Kennedy Center for the Performing Arts), Joan Wages (President and CEO of the National Women's History Museum), and Maestro Philippe Auguin, music director of the Washington National Opera and the Kennedy Center Orchestra who is also music director of the Orchestre Philharmonique de Nice.
In her remarks, Monaco's ambassador said: " … During my two years in Washington, I have found that the history, culture, art and science of the Smithsonian Institution provide compelling windows into the essence of America. In 2009 His Serene Highness Prince Albert II of Monaco visited the Natural History Museum and signed an agreement for his Foundation to work with the Smithsonian on areas of conservation and sustainability."
She continued:
"Dr. Skorton brings impeccable credentials to this esteemed institution, having presided over Cornell University and the University of Iowa. His tenures as a university president demonstrated his commitment to higher education and also to making connections around the world, as his projects in Qatar, Saudi Arabia, India, Israel, and elsewhere can attest.
"The Smithsonian has always been a remarkable international organization, which I know will flourish under his leadership."
In chatting with guests, Skorton noted the recent honor for his former colleague, Marilynne Robinson who has taught for years at the famed Iowa Writer's Workshop.
This week, she was named the 2016 winner of the Library of Congress Prize for American Fiction. She is the author of four award-winning novels, including "Gilead," which won a Pulitzer Prize and a National Book Critics Circle Award.
In his conversation with another Hawkeye (this reporter who graduated from Iowa's School of Journalism), Dr. Skorton proudly said he and his wife Dr. Robin L. Davisson, are friends of Robinson, who is slated to be in town for the Library of Congress National Book Festival at the Washington Convention Center on Sept. 24.