MLK Speechwriter Clarence Jones Honored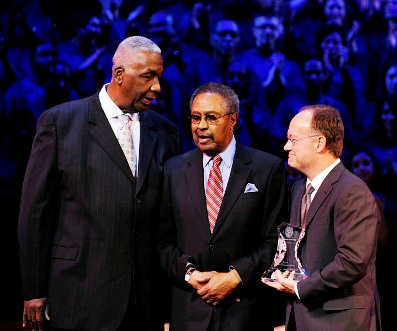 Georgetown presented Clarence Jones with the 2012 John Thompson Jr. Legacy of a Dream Award during an annual Martin Luther King Jr. Day celebration co-sponsored by Georgetown University and the Kennedy Center on January 16, 2012.
An author and Stanford University scholar, Jones is best known for assisting King in crafting the opening paragraphs of the celebrated "I Have a Dream" speech and several others, including King's speech on the assassination of President John F. Kennedy.
Named for the former Georgetown men's head basketball coach, the award honors outstanding scholars, activists and humanitarians who fight for social justice.
Past award recipients include civil rights activist Joseph Lowery, humanitarian and NBA legend Dikembe Mutombo (C'91) and Marian Wright Edelman of the Children's Defense Fund.
The President and First Lady Michelle Obama attended the free community celebration that included performances by vocalist Bobby McFerrin and the Let Freedom Ring Choir, composed of Georgetown students, faculty, staff and District area residents, directed by Rev. Nolan Williams, Jr.
The Obamas were greeted with a standing ovation by the audience of nearly 2400 and departed to chants of "four more years."
More information about Jones and the Georgetown's MLK Celebration is available here.