To Mix or Not to Mix??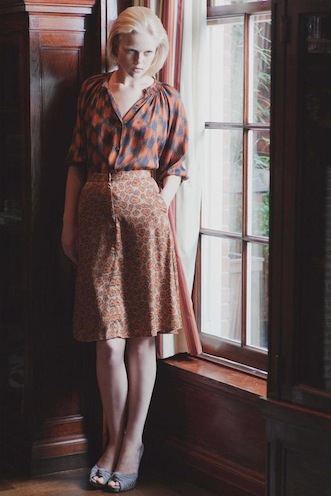 Many are nervous to try this trend - and I can't say I blame you! Looking in your closet in a sea of florals, stripes, plaids and more, it's hard to imagine mixing them would look like anything other than old photographs of you at 5-years old playing dress up in your mommy's closet!
The print-mixing trend is a difficult trend to pull off, but when done correctly it can look great and give you a true high-fashion look, it just takes careful planning. The trend isn't new, it's just that this season it's done on a much more subdued level - it's more about tone-on-tone matching.
The featured photo above is what I would call a job-well-done - a mixture of a leopard print silk skirt with a silk print blouse (both pieces are by Tucker by Gaby Basora - who is known for her wonderful prints - and avail for purchase at Nordstrom.) Shown with an icy gray suede heel but the outfit could also work with a pair of dark tan or nude heels as well.
Ready to get started? Here are a few examples of how you can mix up your prints!
|| Thin & Bold Stripes ||
Striped silk blouse available at JCrew
Pair the blouse with this striped cardigan by Ami Dan La Rue
|| Paisley ||
Paisley blouse available at JCrew
Pair the blouse with this paisley skirt available at JCrew
|| Florals & Stripes ||
Striped T by A.L.C
Pair the striped T with this floral skirt available at ASOS
One of the best things about print mixing is that it's yet another way to get even more use out of your existing wardrobe! The key is to remember not to overwhelm your admirers, so don't over-accessorize and keep your shoes simple and neutral. A print-mixed outfit stands all on its own and doesn't need help in the accessories arena.
So go ahead - have a it and enjoy mixing it up!
XOXO
~April