'Micro' Apartments Eyed for Latham Site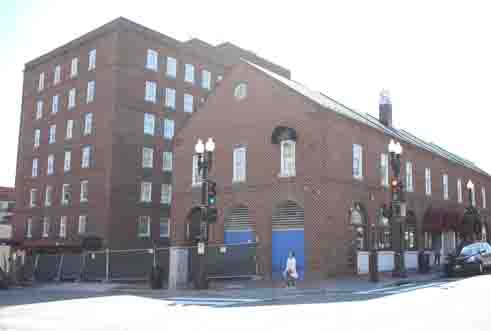 By Brady HoltCurrent Staff Writer
A local developer hopes to convert Georgetown's Latham Hotel into a vibrant mixed-use building with 150 "micro" apartment units, new retail space and no off-street parking.
The Georgetown advisory neighborhood commission said Monday that it supports SB-Urban's broader vision for the property at 3000 M St. But commissioners said the developer needs to tone down the modern facades it's proposing on the street level, including a glassy 32-foot-tall retail structure that would stretch along 140 feet of M Street.
"Red brick is the vocabulary of that building, and I think what goes on M Street should respect that vocabulary," said commission chair Ron Lewis. "I would expect something like this in Friendship Heights — that's more or less the storefront vernacular there, with massive masonry and very large windows — but it's really not the vernacular of M Street."
As proposed, SB-Urban would tear down the 27-foot-tall retail building that currently sits on the M Street side of the property — a red-brick structure with a pitched roof above two stories. Plans call for replacing this with a taller building with gray brick and large windows. The company would also like to drastically overhaul the 30th Street entrance to include much larger windows and an angular shape that stands out from the staid seven-story hotel.
Project architect Patrick Burkhart said the design reflects the existing diversity of building styles on M Street while upgrading the site's aesthetics. "The idea is to lighten this block to create something that's more inviting," he said.
Neighborhood commissioners disagreed. "I think this would change the feel of that area of M Street dramatically, and it's not in keeping with the historic nature of that street," said member Bill Starrels.
"That's an unusually important view on that corner because of the Old Stone House across the street," Lewis added. "People go there to see what they think of as Georgetown … and I think the building needs to respect the expectations of that site."
Commissioners were more receptive to the housing plan, with some reservations. As proposed, the hotel would be converted into small, furnished studio apartments, marketed to professionals who move to D.C. temporarily, SB-Urban officials said. The firm is pursuing a similar project at the Patterson Mansion at 15 Dupont Circle, albeit with a more architecturally subdued design.
"Our view is that the Latham is a perfect example of the kind of situation in which we want to deliver this kind of project," said SB-Urban's Michael Balaban. "It's immediately adjacent and surrounded by urban amenities of all kinds, and it has wonderful access on transit and by bike and on foot to the workplace."
Accordingly, Balaban said his tenants would be unlikely to own cars. Developers would therefore like to replace the Latham's 52-car parking garage with plaza space, common amenity rooms for the residents and a storage facility. Though neighborhood commissioners will formally consider zoning issues at a later meeting, some residents and commissioners expressed reservations Monday about supporting the project without parking.
"If this were right at a Metro station, maybe, but the people who live there are going to want to get out in the evening and they're not going to want to take public transportation," said Lewis, who suggested providing 25 to 35 spaces. The Citizens Association of Georgetown has recommended 90 spaces.
Balaban said parking would cut into the common space needed by residents of tiny apartments, and offering spaces to attract residents with cars. He added that the plan is to prohibit the tenants from getting on-street parking permits.
This article appears in the April 2 issue of The Georgetown Current newspaper.