Michael Urie Starring in 'Buyer and Cellar' Through June 29th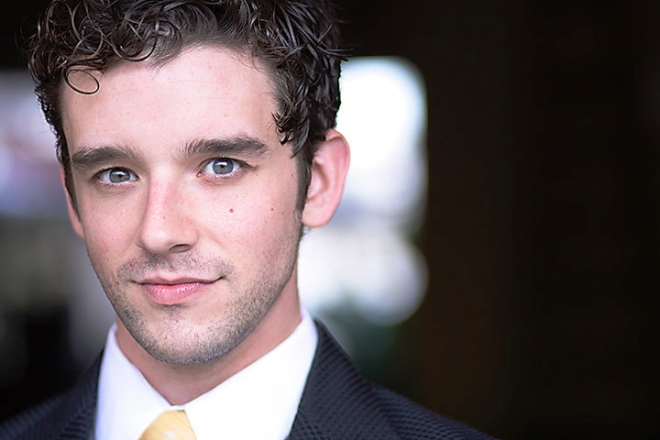 The New York smash hit Buyer and Cellar is now at the Harman Theater n D.C. through June 29th. On Saturday Michael Kahn, Artistic Director of the Shakespeare Theatre and Tom Mounteer, super lawyer and member of the Founders Council of the Williams Institute at UCLA Law School, hosted a fun opening night soiree for the star of the show Michael Urie and his partner; writer, actor, producer, Ryan Spahn at Mounteer's beautiful D.C. home. When introducing them to the crowd Kahn spoke of Urie's amazing talent and drive and said that we will also be hearing a lot more from his partner Spahn who Kahn vouched for as a great actor.
There was a glittering crowd in attendance and among them were versatile actor Tom Story, former Theater Washington Board Chair Victor Shargai, director AlanPaul, writer/producer EricTipler, Dean of the GW School of Medicine and Health Sciences Jeff Ackman and his partner grants manager at the DC Arts Commission, Stephen Mazzola. Also there was well respected theater and film critic Tom Mondello, Shakespeare Theatre Company's managing director Chris Jennings, and from the Mayor's office senior communications officer Rob Marus.
The one-man play starring Urie is about an unemployed actor who ends up working in the cellar 'mall' of superstar Barbara Streisand. The concept came from a book which Streisand wrote in 2010 where she mentioned in passing that she has what she called a personal 'mall' in her Malibu mansion where she has her antique collection and all the other collections she has acquired over the years. Jonathan Tolinswho wrote the play took that snippet and has written what everyone who has seen it says is one of the 'funniest plays in years'. In the play unemployed actor Alex More finds work with Streisand as shop-keeper of this fictional mall with Streisand as his only customer. Urie who plays both Alex and Streisandhas been playing them and a handful of other characters in Buyer and Cellar for over a year at the small Rattlestick Playwrights Theater in New York.In a recent Metro Weekly cover story Urie said how much the audience matters to his work in this show because as he said, "You're not getting a full Barbra." Urie doesn't do Streisand in costume but all who have seen him say he still manages to make you believe he is her.
Urie and Spahn credit Kahn with the idea to bring Buyer and Cellar to D.C. Urie was a student of Kahn's at Julliard over ten years ago and when Kahn saw the production at the Rattlesnake he suggested that it would go over well in D.C. From that suggestion Urie and Spahn now have a national tour planned which will take the show from D.C, to Chicago, San Francisco and then Los Angeles. I asked Urie if hopes Streisand will come to see the show in LA and he had mixed feelings about that. While of course it would be great he doesn't want her to feel offended in anyway. Her publicist Ken Sunshine did see the show in NY and Urie said he loved it so maybe he will bring Streisand and surprise Urie one night.
For an evening of fun and laughter in the theater I suggest you call and reserve your tickets TODAY for Buyer and Cellar. Remember it's only there till June 29th.