Michael Kahn; Leader, Innovator, Icon, Friend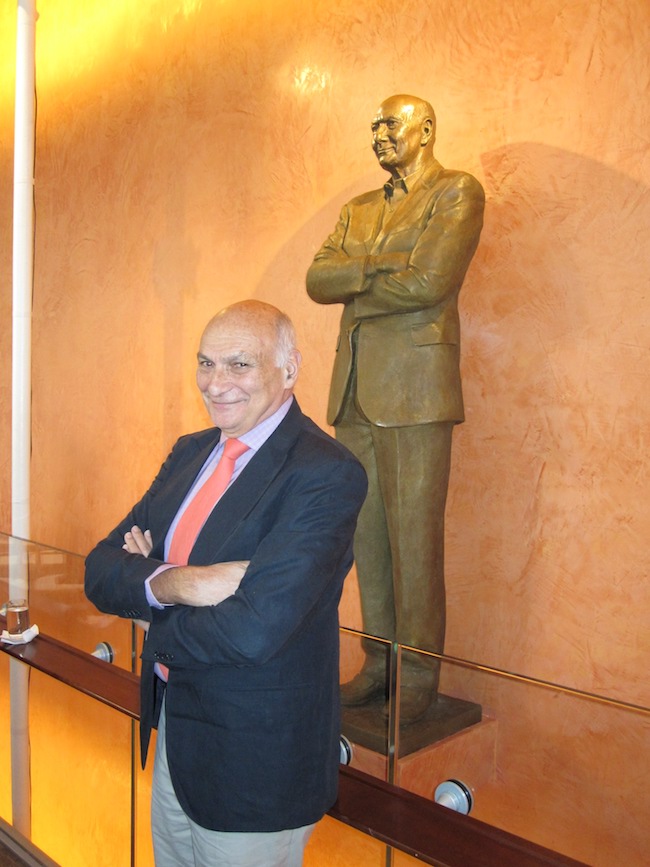 I have been fortunate over the years living in Washington, DC to meet and become friends with many incredible people. Leaders in the LGBTQ+ movement, politicians, and thought leaders in many areas. But one person stands out among those who I have met. He is a leader, innovator, icon and now friend; that person is Michael Kahn, Artistic Director of the Shakespeare Theatre Company (STC).
At the end of this month Michael is retiring after thirty-three years in Washington as one of the most influential people in the DC theater scene. His legacy includes the incredible STC which he has dedicated years to building. But it's more. Michael is credited with being a major impetus to the growth of downtown DC which began when he took the audacious step of moving the theater to the Lansburgh on 7th street in downtown DC. Today that theater and the new Harman Hall are part of his amazing legacy and a thriving downtown. STC has produced and hosted more than 150 productions and entertained more than 2.5 million audience members. Since 1986, STC has won a Tony award, 104 Helen Hayes Awards and earned 438 nominations.
I first met Michael at Java House coffee shop in Dupont Circle. He would come sit and read which he does to this day. He would often work on issues related to the current play he was directing or helping other directors with their projects. Michael became a friend. We go to the same gym, FIT Personal Training on 17th street, and he introduced me to many of his friends over the years. One of those friends is Supreme Court Justice Ruth Bader Ginsberg. She officiated at Michael and his husband Charles' wedding and I had the chance to sit next to her and chat at an STC event. Michael has a lot of friends the rest of us mortals can only read about and look at from afar. He was recently in England and posted a picture on his FB page having lunch with Dame Judith Dench and Dame Eileen Atkins. Oh to be a fly on the wall at that luncheon.
In return I introduced Michael to members of my morning coffee group and he would join us when he got up early enough which for a theatre person who lives a late night life wasn't all the time. Everyone enjoyed listening to his stories and I started arranging theater parties to the plays he directed. He was enormously generous with his time and suggested after the plays he would invite the cast to join us for cocktails. This became a regular thing for many years. I would organize the theatre party and he would invite the cast. I found out from some cast members it was more of a command performance for them when the esteemed Kahn invited them. But it turned out they and we all enjoyed ourselves at these events. We continued this tradition right up to Michael's last play at the Shakespeare, The Oresteia. Through these events our coffee group got the opportunity to meet some amazing actors including Nancy Robinette, Holly Twyford, Tom Story, Michael Urie, and most recently Josiah Bania and Kelley Curran.
We attended plays we otherwise may not have gone to see had Michael not directed them. I learned that a brilliant director like Michael working with talented actors can make any theater experience exciting.
In his recent oped for the Washington Post What the theater has taught me about Washington he shares his love for the city. Michael writes "Over the years, however, I've seen this city change its character dramatically. A city that hosted fewer than 10 theaters in the early 1980s now has more than 90 professional companies, alongside opera, ballet, musical acts of all kinds and a thriving food scene. Aspiring actors and writers used to leave D.C. looking for work; now they move to the District to make careers. They study here, and they stay here. Theaters pay a living wage and do an enormous diversity of work, raising the level of artistry to one of the highest in the nation." Michael is responsible as much as anyone else for all that.
Each year the Shakespeare Theatre holds a Gala and presents the WILL award to a deserving actor. Through Michael I would get an invitation to attend a brunch prior to the event at the home of the British ambassador. At these events Michael graciously introduced me to his friends who included the likes of Chelsea Clinton, Ian McKellen, who joked about how appropriate it was that he had been invited by the Ambassador to stay in what was normally the 'Queen's bedroom'; Annette Benning and her husband Warren Beatty and Elizabeth McGovern. At one of the brunches I had the chance to chat with the late Mickey Rooney and his wife. Rooney seemed quite out of it and not quite sure why he was there. He was scheduled to be a surprise guest at the Gala performance that evening doing Puck's soliloquy from a Midsummer's Night's Dream. I mentioned this to Michael who came over and got really concerned and thought he may have to make other arrangements for the evening. I sat in the audience for the show wondering who Michael got to replace Rooney. Then the curtain opened and lo and behold there was Rooney, dressed in his tuxedo and he performed brilliantly without missing a word. We got to see vintage Mickey Rooney.
I will miss my conversations with Michael at the Java House when he moves more permanently to his home in New York. Like so many of us he came to the District for a job and stayed because he fell in love with the city and in his case the city fell in love with him. I recently kidded him that maybe like Cher he will do many comebacks and if we are very lucky we have not yet seen the last play directed by Michael Kahn in Washington, DC.
This column first appeared in the Washington Blade.
*/