Michael Kahn Introduces the Cast of 'Hamlet'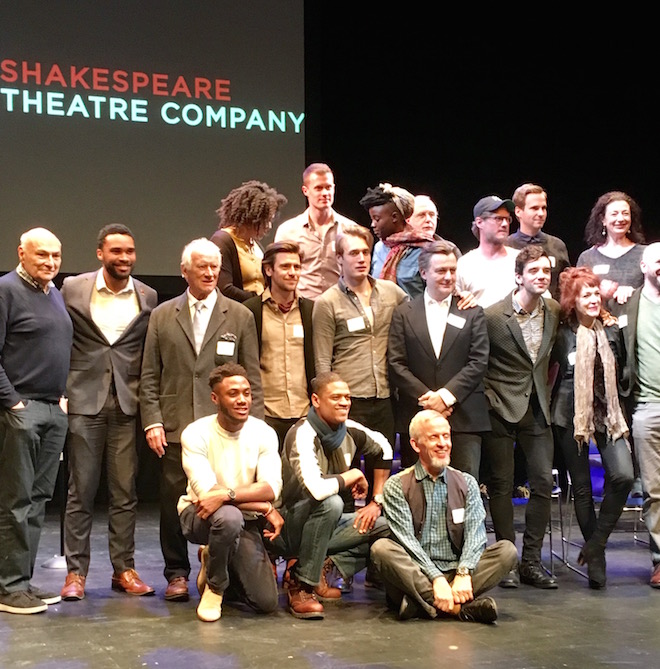 The Shakespeare Theatre has a great tradition of introducing the casts of its plays as they begin rehearsals. That tradition continued on Tuesday evening with the introduction of the cast of Hamlet which opens on January 16th. I was fortunate to be there and have the opportunity to chat for a moment with the lead actor.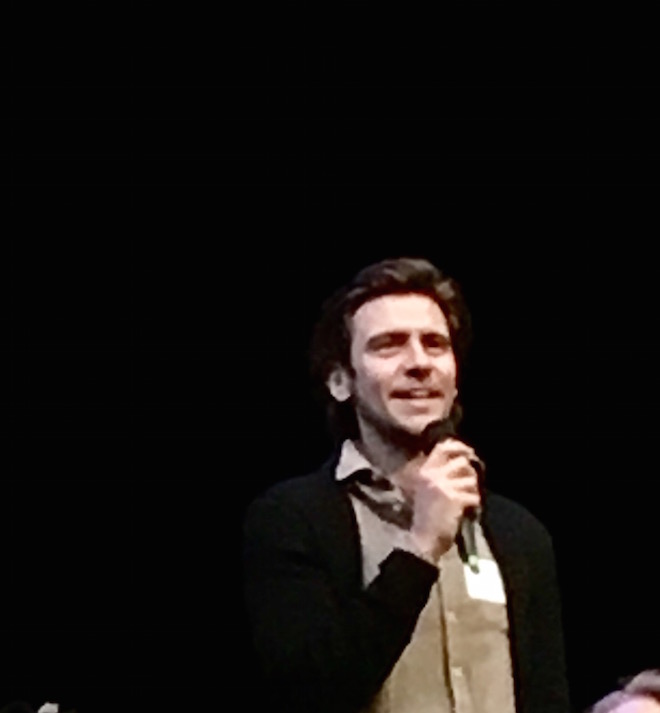 There is a large and very impressive cast beginning with Hamlet himself, Michael Urie. Michael was last seen in DC in the award winning one man show Buyer and Cellar, about the mall in Barbra Streisand's basement. He was hilarious just as he was on TV in Ugly Betty. He recently finished a stint in New York in Harvey Fierstein's Torch Song Trilogy where he got rave reviews.
So what about his distinguished career sets him up to play Hamlet? If you ask his director, the extraordinary Michael Kahn who was also his teacher at Juilliard, it was his doing a scene from Hamlet in school with classmate, Jessica Chastain.
Hamlet, who many consider the greatest character of Western literature confronts the meaning of life, the bonds and limits of flesh and blood, and the line between madness and inspiration. In the wake of his father's abrupt death, Hamlet returns home from university to find his personal and political world changed as he never imagined it could—his mother remarried, his uncle on the throne and a world seemingly gone insane. When his father's ghost appears and demands vengeance, the increasingly desperate Danish prince must decide: submit or resist. Accept or avenge. Live or die.
Urie will be joined by some new to the STC stage, others very familiar, others from around the world and award-winning including Oyin Oladejo (Star Trek: Discovery) as Ophelia; Robert Joy (King Charles III) as Polonius; Alan Cox (Translations on Broadway) as Claudius; Federico Rodriguez as Horatio; Madeleine Potter (An Ideal Husband on Broadway) as Gertrude; Gregory Wooddell as Osric/Marcellus; Ryan Spahn as Rosencrantz and STC Affiliated Artist Keith Baxter as the Ghost.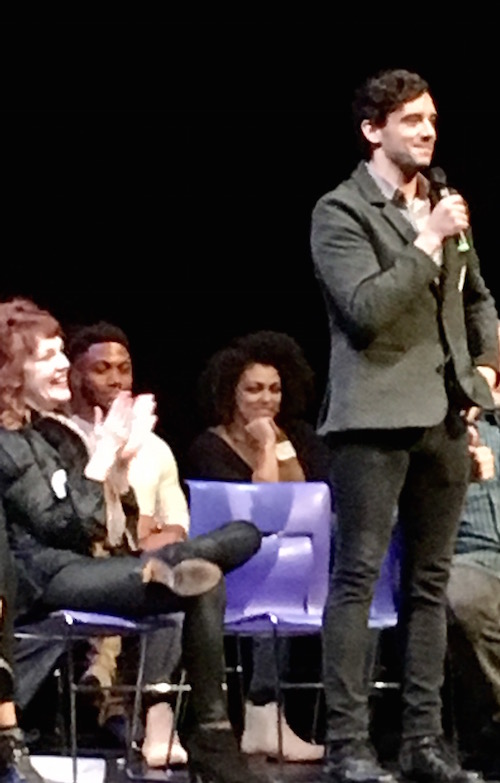 Kahn said, "I have been eager to explore this masterpiece with Michael Urie as Hamlet. Now that we have assembled such a deeply talented cast to fill the world around him, I know we are going to see some extraordinary performances. I am happy to welcome back some STC veterans and other gifted artists who will make their debut on our main stage." He went on to say "As artistic director I feel a responsibility to produce classical theatre that resonates with modern audiences and speaks to people across cultures and generations. I want to ignite conversation. Hamlet is a play about the elusiveness of certainty and the ambivalent nature of revenge, about trust, doubt and finding the truth—or not. I'm curious to see how today's audiences respond to it."
Audiences will find what I know will be an exciting evening in the theater enhanced because of the productions' award winning design and artistic team which includes John Coyne (Set Designer; Broken Chord, the team of Sound Designer Daniel Baker and Composer Aaron Meicht; Costume Designer Jess Goldstein; Lighting Designer Yi Zhao; Fight Choreographer David Leong; Voice & Text Coach Lisa Beley; Assistant Director, Craig Baldwin; Production Stage Manager Joseph Smelser; Assistant Stage Manager, Rebecca Shipman.
*/
Shakespeare's most celebrated tragedy will run January 16–February 25, 2018 at Sidney Harman Hall