Michael Andrews Bespoke: Not Your Father's Custom Tailor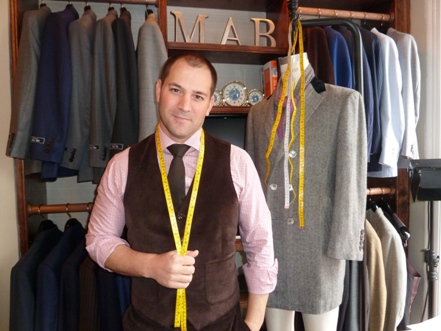 With over 5,000 luscious fabrics (mainly from Italy and England) to choose from, Michael Andrews Bespoke (MAB), Washington, D.C.'s newest custom men's shop is your new BFF (Best Fashion Friend). Trust is a big part of every relationship, and when you meet Michael, you'll immediately feel you're in competent hands. This 'recovering corporate lawyer' has been suiting up New York's most fashion forward men for the past six years before making his way to our capital city.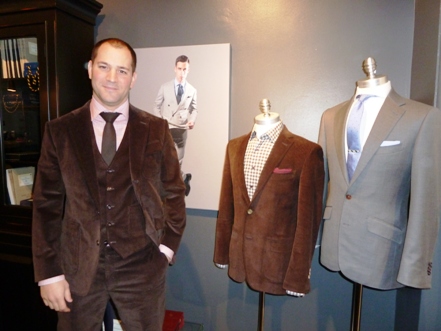 It was a love of fine tailoring and not being able to find exactly what he wanted for his own closet that prompted a career change and a wardrobe with his own private label, one you'll want to call your own.
After opening at the end of October, their new downtown location on the second floor of a Dupont Circle row house is a place for private consultation and fittings. Designed by Meg Tawes, MAB's charcoal walls and warm wood finishings is a bold and cozy private space so inviting, you'll want to ask about the dinner menu.
Focusing on the "top level of customization, especially for the hard-to-fit," Michael and his team make every effort to be their clients' "stylist, guiding them through all their purchases to make the right choices for them. While accesories are not our focus," says Michael, "we provide them as a service for clients to complete their wardrobe."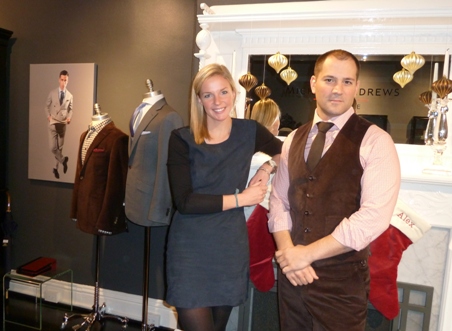 As Michael told The Georgetown Dish, "We love fashion, the slim fit, and contemporary aesthetic." After going 'full-time' in August of 2008, he grew the company 40% at the height of the recession was something of a miracle. But, as he explained, "Every career coach was advising clients to get a great new suit for for interviewing. And for those who still had jobs, looking great was especially important."
And what advice would Michael give Washington men? "Guys in D.C. need to have courage," he says. "A lot of men are afraid to step outside the box. They're not going to get fired for wearing a litle color." One bold move can have a domino effect. "Soon everyone in the office is dressed to the nines."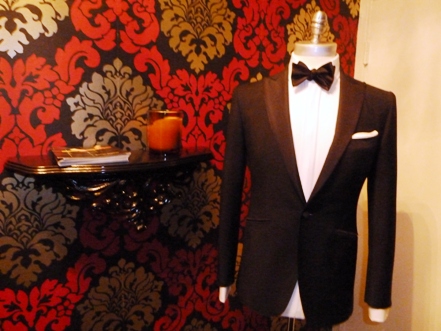 The biggest trend is a slimmer fit. Moving away from 'big boxy suits,' it's most important to have the right fit. Double-breasted, heavier weight fabrics like tweed and corduroy. Michael was waring a dashing brown three-piece fine wale corduroy suit with brown-and-white checked lining during our interview.
As for shirt collars, "they should go with the face. Wide face, narrow collar."
See for yourself. Like dining in your favorite restaurant, it's best to call ahead. "After all, we're in the hospitality business. If you don't have an appointment, no one gets the service they want."
Operations manager, stylish Carly Phillips will be there to greet you. "Getting to see all our clients' different tastes makes this so much fun." Custom suits are avaialble in 'three levels of distinction': Ultimo (starting at $2,395), Primo (starting at $1,395) and Entrade (starting at $995).
Michael Andrews Bespoke is located at 1604 17th Street , NW. Tel: 202.350.9001