Metro TeenAIDS 19th Annual Auction at The Embassy of Italy June 7th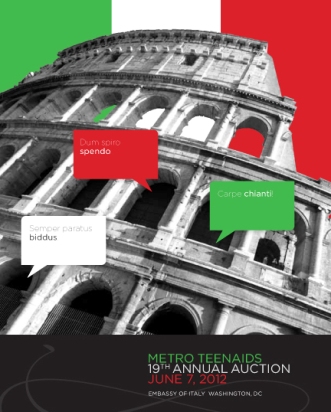 Join Metro TeenAIDS for a fun evening on June 7th at the Embassy of Italy as they honor House Democratic Leader Nancy Pelosi who will help raise funds to support the youth of the District of Columbia, Maryland and Virginia.
Metro TeenAIDS is the leading community health organization solely dedicated to supporting young people in the fight against HIV/AIDS. There is nothing more important that we can do than educate our young people about this terrible disease. Metro TeenAIDS does this through their programs of support and advocacy work to prevent the spread of HIV.
Some facts you may not know are that Washington, D.C. has one of the highest AIDS rates in the country but comparatively few of those infected are getting the treatment they need. It is estimated that between 1,000 and 1,500 infected young people live in the Washington, D.C. area and yet only about 100 of them are receiving medical care. Across the nation, half of all new HIV infections occur among people under the age of 25 and as many as one third of all HIV-infected young people do not know they carry the virus.
With so much ignorance, and such limited healthcare, young people face the highest risk of infection. They live in a culture that heightens those risks. We know that adolescents tend to distrust adults who could help them, yet face intense pressure to become sexually active at an early age.
All this is why the work of Metro TeenAIDS is so important. For 20 years they have provided education programs and prevention resources to well over 200,000 young people, family members, and youth workers. They work to responsibly provide innovative, science-based, effective education on HIV prevention, care, and related issues. They provide comprehensive, culturally competent, and age-appropriate counseling; positive youth development programming; and linkages to treatment services to youth who are either affected or infected by HIV.
Image
At the Embassy of Italy on June 7th you will meet some of the people working the hardest to care for the youth of the District of Columbia and support their work. You can bid on items including dinners at great restaurants; special wines provided by Estadio; and trips to Puerto Rico and the use of a great vacation home on the beautiful island of Isla Mujeres. Or bid on an invitation for you and three guests to a taping of Inside Washington hosted by Gordon Peterson.
Plan to join Nancy Pelosi and the Italian Ambassador, His Excellency Claudio Bisogniero, as he welcomes Metro TeenAIDS to the embassy. Your donations will help them expand their advocacy program and increase the capacity of young people to educate decision makers, policy makers, and funders about HIV and encourage their support for policies that promote HIV prevention and care services. Help Metro TeenAIDS continue their mission which is providing the highest level of service to the community to prevent future HIV/AIDS cases and care for those who are ill today.
To join Nancy Pelosi and Metro TeenAIDS on June 7th you can buy your tickets here or call 202.543.8246.