Metro Floats Possible Cuts to Several Local Bus Routes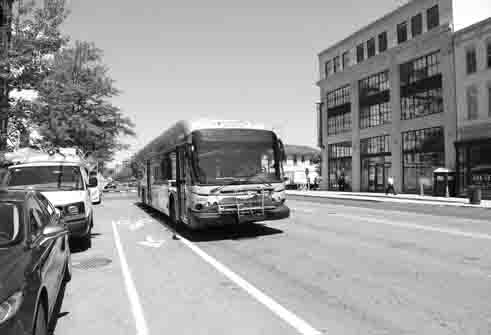 By Mark LiebermanCurrent Staff Writer
The Washington Metropolitan Area Transit Authority posted a list of possible changes to its bus routes on its website last week, prompting concern from some residents about the impact to their commutes.
If the proposed changes take effect, the N3 route from Friendship Heights to Foggy Bottom, which currently runs during rush hour in the morning and evening, will be eliminated. In its place, more N4 buses will run from Friendship Heights to Farragut Square.
Meanwhile, the stretch of the 54 route from McPherson Square to L'Enfant Plaza would be eliminated, and the number of buses traveling between the 14th Street/Colorado Avenue intersection and the Takoma Metrorail station would increase. The number of riders on the portion of the 54 that might be eliminated is unsustainably low, according to the Metro site, while the number of riders on the portion that would get a boost is unsustainably high.
Also, the D1 rush-hour route would lose the section between Franklin Square and Federal Triangle, and the last ride of the day — currently scheduled to leave from Federal Triangle at 7:05 p.m. and arrive at the intersection of 39th and Calvert streets NW in Glover Park 38 minutes later — would be eliminated. The Metro site says both proposed cuts are the result of low ridership.
The Metro board will reach a final decision about the changes by October, according to transit authority spokesperson Morgan Dye. The changes would take effect in either March or June 2016, Dye said in an email.
Abigail Zenner, a Glover Park resident and advisory neighborhood commissioner speaking on her own behalf about this issue, said she's worried about how the D1 changes will affect her and her neighbors' commuters.
"I'm certainly concerned. It does worry me a little bit. There are fewer and fewer ways to get further east from Glover Park," Zenner said. "At the same time, if people aren't riding the bus, then I can understand why Metro starts cutting routes."
Some of Zenner's neighbors have been suggesting abandoning Metrobus altogether and switching to other forms of transportation, including Bridj, a new bus service app modeled after Uber. But Zenner thinks that form of protest will send the wrong message.
"I think the appropriate response is definitely to speak up. We've found that it does work. These cuts are not as bad as they could have been," she said.
In Petworth, the changes to the southernmost part of the 54 route have advisory neighborhood commissioner Zachary Teutsch renewing his hope that Metro will embark on a long-sought project to add an express route to the busy 14th Street corridor. That project would cost $1.3 million, according to a Metrobus survey conducted in 2012.
"These buses are needed for longtime residents and new residents as well," Teutsch wrote in an email. "This would be a huge (and cheap) win for DC."
As for the N3, Tenleytown advisory neighborhood commissioner Tom Quinn said he doesn't expect the loss of the commuter route to affect many residents.
"I think that's going to be a pretty minimal impact on our constituents," Quinn said. "Though I do hate to see any route eliminated."
Quinn noted, however, that some riders might have to take the more expensive Metro trains and switch lines to get to work in the Foggy Bottom area instead of taking a single, less costly N3 bus.
Residents can voice their concerns and feedback about the proposed changes at a public hearing at Metro headquarters, 600 5th St. NW, on Sept. 17. An information session will begin at 6 p.m., and public comments will start 30 minutes later.
Zenner noted that giving feedback does help, pointing to the transit authority's decision to keep the D2 route as is after area residents protested potential changes in February. She thinks the best way for neighbors to make their voices heard is by responding to a Metro survey at questionpro.com/t/ALAqdZSvD5 and informing representatives at the transit authority.
Zenner said the bus is an integral part of the Glover Park community, and she believes a dialogue with transit officials should continue.
"Not everyone in Glover Park has a car or the means to use Uber. There are a lot of different ways people get around," she said. "The bus is really a lifeline to get us connected to the Metro and to our jobs."
Teutsch agrees on the importance of speaking out.
"It is difficult for transit planners to know how the community feels unless we tell them," he said. "They rely a lot on usage statistics to tell part of the story. It's really important for community members to weigh in until they have the full story."
This article appears in the Aug. 26 issue of The Georgetown Current newspaper.