Meet Your New Butchers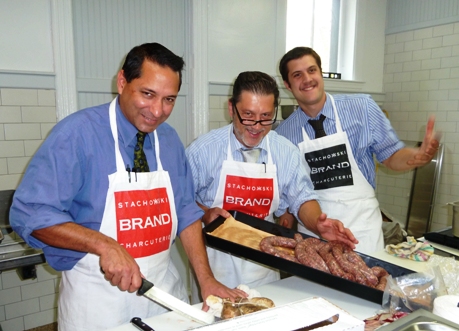 It's been ahwile since Georgetown has had its own charcuterie. Well more than awhile. Never. Remember the wonderful selection of fresh meats and sausages at Neams? And of course there's Dean & Deluca, but never a free-standing shop. Until now.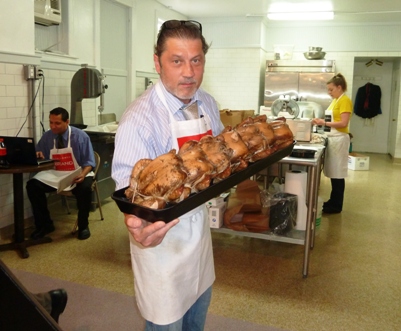 The owner, Josef Stachowski, a first-time butcher, has co-owned a catering company and worked in local restaurants. He's also son of "Maestro of Meat" Jamie Stachowski, meat perveyor at Rose Park Farmers' Market, and recently featured in the documentary, Meat America.
Don't be confused by the old Griffin Market sign. Stachowski Market is open for business. As Joseph says," We're a good fit for each other." He means Georgetown and the family's business. From catering and delivery to pheasant and game pâté to prepared meats, sandwiches and even TV dinners. That's right.
When The Georgetown Dish stopped in, Jamie, Jyoti and Joseph were preparing ready-to-go meals of smoked chicken, scalloped potatoes and blanched asparagus.
There will be seating in the front of the shop soon, and the official grand opening is several weeks away. But you can stop in now, say hi to your new butchers and ask, "What's for dinner?"
Stachowski Market is at 1425 28th Street. Hours are 10:00 to 8:00 pm Tuesday through Saturday. 11:00 am to 6:00 pm on Sunday.