Meet Marcos Galvany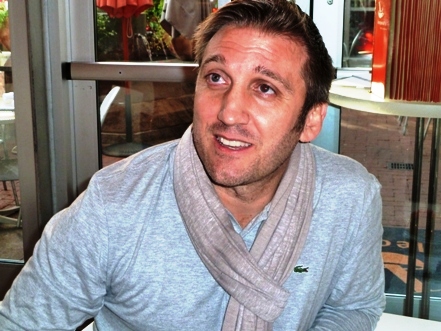 An overwhelming desire to capture a magical moment between an adorable four-year old girl and her handsome date compelled me to interrupt an early morning breakfast at Leopold's Kafe. I soon learned that the pair often ventured out together, meandering around Georgetown, frequenting Rose Park, the Apple Store, and that Leopold's was a favorite spot.
She is Lina Scott, daughter of Caroline and Scott Simon, and younger sister of Elise. He is Marcos Galvany, godfather to Lina and her Watergate neighbor.
Thanks to The Georgetown Dish for an excuse to ask a lot of questions, I now have the pleasure to introduce you to classical composer, conductor and dear friend, Marcos Galvany.
His parents came from Spain to see him perform his first original operatic tableaux at Carnegie Hall in New York on April 10, 2010. His mother's only hope was that her son had sold enough tickets so she "wouldn't have to visit him in jail." The world premiere was sold out, and in 2013, Marcos plans to perform "Oh My Son" for the Pope at the Vatican.
When he was little more than Lina's age, a playmate accidentally punctured Marcos's right cornea while they were playing with cardboard boxes. After a failed operation, his parents brought him to a hospital near Barcelona. There the surgery was a success but it meant months of recuperation during the summer, and for a few months each year thereafter. A convent run by "21 very nice nuns and my aunt" soon became Marcos's new home.
"Whatever you do, don't touch the piano," cautioned his aunt. Within two weeks, an eye-patch clad Marcos was composing, "drawing melodies in my head from the Gregorian chants." He taught himself to play, the nuns taught him to paint.
At 13, a neighbor had gotten a new piano. When his mother heard him play, she thought he was "possessed." At 17, he was writing original compositions, and at 18, enrolled in a national competition by his older brother. "With two day's notice, I was to play in a disco my own music." He won.
Offered several scholarships, Marcos chose Columbia Union College (now Washington Adventist University) in Takoma Park, Maryland. Inspired by his teacher, Dr. Virginia Rittenhouse to orchestrate a symphony, Marcos was soon performing around the country with the famed New England Orchestra.
"I want people to know my music," says Marcos, as he prepares to record the CD version of "Oh My Son" this summer.