Meet the maestro of meat at Rose Park Wednesday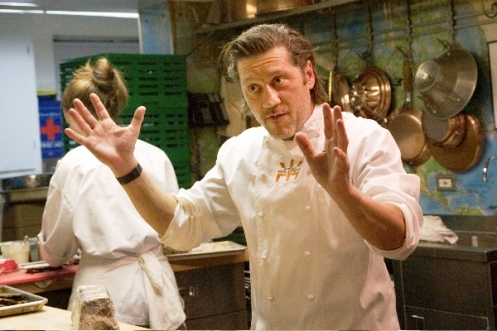 With aliases like 'The Maestro of Meat,' 'The Butcher from Buffalo,' 'Captain of Carpacchio,' and 'The Crown Prince of Poultry', Jamie Stachowski is definitely a man for all meats.
Last week you saw him on the History Channel's, "MEAT AMERICA!"
This Wednesday, August 3, meet the meat maestro at Rose Park Farmers' Market.
Jamie explained to The Georgetown Dish what's different about this market, "Georgetown has a special clientele, more sophisticated and knowledgeable about what I do."
From his first cooking job to feeding his German Shepherd, Rut to the first paying job in a neighborhood family Italian restaurant in Buffalo, NY, Jamie had a passion for food.
Instead of attending art school, he drove across country to work for Michel Richard's pastry shop and with many of the great chefs in LA, including Claude Avery, Claude Segal, Joachim Splichal and Wolfgang Puck. After a brief stint at Le Perigord in New York, Jamie came to Washington, D.C., where he settled and established himself as a chef in his own right for 18 years at Jean Louis Palladin. In 2003, Stachowski and his wife Carolyn, opened Restaurant Kolumbia.
Now the chef has turned to charcuterie with his own Stachowski Brand.
Georgetown Farmers' Market in Rose Park, open every Wednesday from 3:00 - 7:00 pm (until October 26) is at the corner of 26th & O Streets.