Meet Elliott Alpher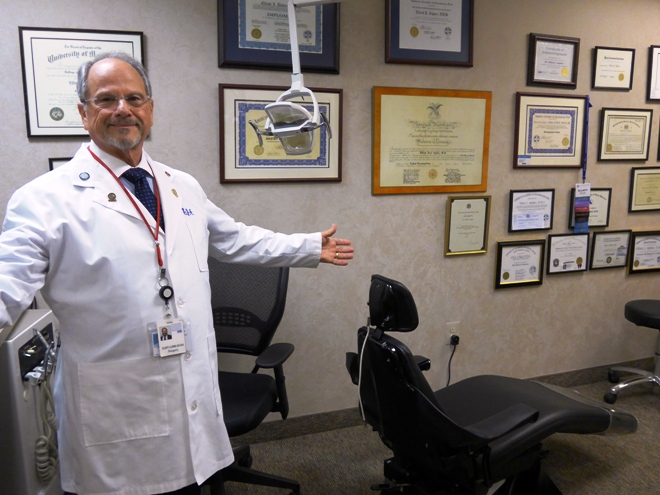 Many times it's difficult to find the right specialist to treat chronic pain or a disorder without drugs or surgery.
Until I met Dr. Elliott Alpher, I had never connected the fields of sleep and jaw disorders. For the former, I thought Ear Nose Throat (ENT), for the latter, a dentist, and maybe add a massage or two for good measure. Turns out, native Washingtonian, Dr. Alpher, has made these conditions his life's work, practicing oral medicine and diagnostics in the District for a quarter century.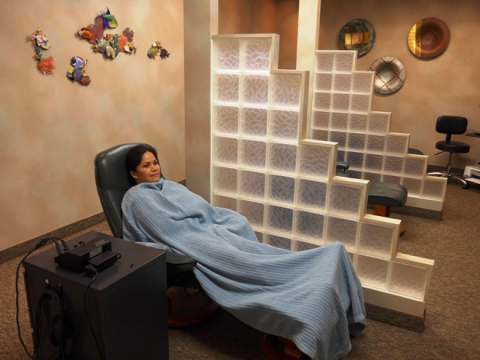 "Elliott Alpher is one of the foremost temporomandibular disorder (TMD)/sleep practitioners," says Dr. Richard Klein, of the Michigan Head & Neck Institute. "He recognized the need for dentists to get involved in sleep disorders over 25 years ago. He realized you could not treat sleep disorders without first understanding TMD/craniofacial pain and joined The American Academy of Craniofacial Pain, where he is now a Diplomate and member of the Board of Directors.
Dr. Alpher explains, "Patients with sleep apnea don't want to wear a big cumbersome sleep mask (CPAP) and oral appliances are an effective alternative in many cases. The same goes for snoring. And what patients and many physicians don't realize is the relationship between sleep disorders, the jaw, jaw pain and even migraine headaches. So often, we treat all three with many serious medications, and do not even consider the effective oral appliance. It's fascinating to see how quickly a patient can get back to a normal life when their jaw is in the correct position!"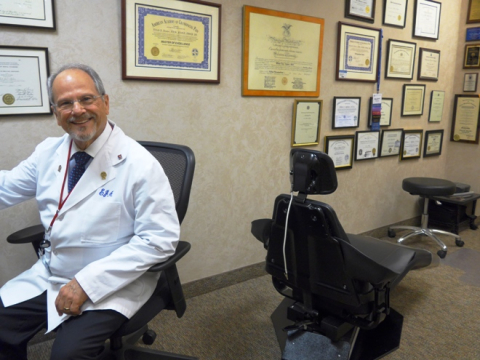 How does he do it? By treating (TMJ), snoring and sleep apnea with a conservative, non-invasive approach combined with computerized and verifiable diagnostic methods.
Raising awareness about TMD and sleep disorders, not only with other physicians, but with patients, is something Dr. Alpher has made a practice of doing throughout his career, lecturing throughout the United States, and in Europe and South America. He's also co-authored and published many studies.
Hanging prominently in Dr. Alpher's office are photographs of his mentor, Dr. Irving Kittay. In 1981, Dr. Alpher attended a world conference where he first met Dr. Kittay who was to become Dr. Alpher's mentor. It was only then that Dr. Alpher realized how much more there was to learn. Combining bio-technology with physiology was the key. Together, these two pioneers continued to developed new technologies in bio-physiological dentistry.
With the only office customized for his unique approach, Dr. Alpher can offer patients myotherapy, laser therapy, and accurate measurable diagnostics, also utilizing many other technologies and services.
Together with his colleague and friend, Dr. Oliver Roberson, a highly respected D.C. Atlas Orthogonist, Dr. Alpher recently presented a two-hour paper on, "Cervical-Atlas Relationship to Sleep Disordered Breathing" at a meeting of the Dental Division of the American Academy of Sleep and Breathing in Scottsdale, Arizona.
"Our audience was truly captivated. Very few have connected the dots between the spine and the jaw and their affect on sleep disorders and craniofacial pain. Dr. Roberson and I have been treating patients together for years and they're getting better faster!"
The event was sponsored by David Gergen, executive director of The American Sleep and Breathing Academy and President of the Pro Players Health Alliance, two related organizations committed to increasing awareness and education of sleep apnea especially in retired National Football League (NFL) players. The presentation explores the relationship between posture, neck and spine injuries, growth issues and sleep and breathing disorders.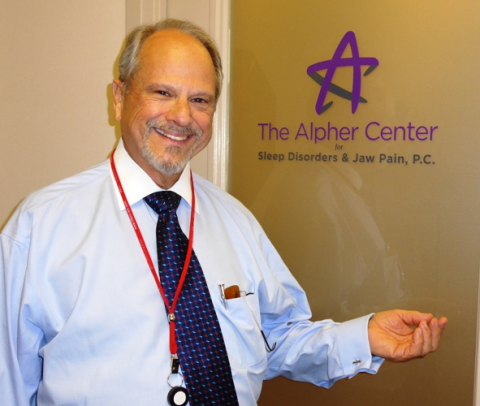 Currently, Dr. Alpher is working with the NFL on a variety of initiatives including sports performance mouth guards. Pro athletes are using these neuromuscular mouth guards to maximize their endurance, strength and flexibility. Dr. Alpher is one of the few qualified dental specialists in the District who provides customized sports mouth guards and performance enhancement appliances, and is also on the Otolaryngology and Surgery staff at George Washington University Hospital and Georgetown University Hospital.
Dr. Alpher founded, and currently chairs, the Capitol Multidisciplinary Focus Group five years ago. In their quarterly meetings they review the latest developments in all specialties of medicine represented in the group and by the guest speakers. Earlier this year, in addition to the Alpher Center for Sleep Disorders & Jaw Pain, he founded the Alpher Center for Dental Sleep Medicine, a non-profit research institute.
Dr. Alpher's office is located at 1133 20th Street, NW.