Mayor Vincent C. Gray, Attorney General Irvin B. Nathan Release Campaign Finance Reform Proposal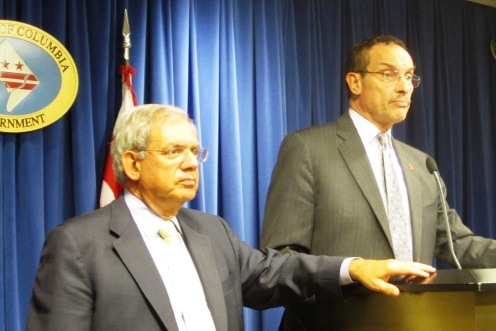 Tuesday afternoon the Mayor and Attorney General released a wide-ranging campaign finance reform proposal in the form of draft legislation. This proposal originated when Mayor Gray asked the Attorney General months ago to develop a bill that would help to clean up District politics by regulating campaign financing. The Attorney General spoke at a Council hearing in May outlining the concepts that would guide the development of this bill and promised the Council that the Mayor would have legislation ready to introduce in September.
The draft bill is online and Nathan said citizens are welcome to review it and make any suggestions they like to change it or enhance it. The Mayor said those will all be reviewed and if appropriate incorporated into the bill prior to his sending it to the Council.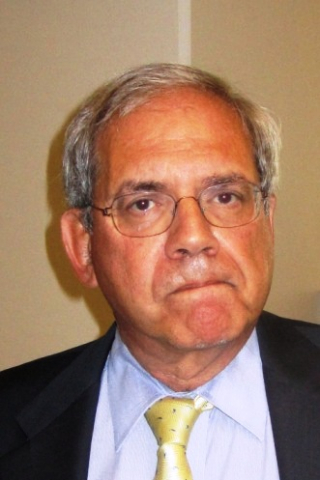 Some reporters immediately jumped up to ask the Mayor if he felt he is the right person to introduce such legislation considering his campaign is under investigation. They then asked Attorney General Nathan if he thought that a Council with seven members up for reelection would look at such a bill. Nathan said, "I would think this would be a great time to look at such a bill and pass it as they are asking the citizens of the District for their support". Mayor Gray said,"The residents of the District of Columbia deserve to have confidence in their government, and this bill, if passed, will help safeguard the trust that our residents place in our leaders when they elect us."
I give the Mayor tremendous credit for suggesting and introducing this bill and for saying to the people of the District "Look at and judge this bill on its merits". Whatever the results of any investigations people know we need change and this bill is a comprehensive step forward.
A major point of this bill is to end 'pay-to-play. The proposed 'pay-to-play' provisions of the legislation would bar those who have (or are seeking) contracts or grants with the District valued at $250,000 or higher from contributing to any elected public official or candidate who could be involved in the approval process for the contract or grant. They also would ban such individuals from contributing to any entity in which an official or candidate with oversight over the approval process has a significant financial interest.
The proposed bill's disclosure rules would require organizations supporting or opposing any candidate, initiative, referendum or recall to identify the sources and amounts of any contributions they receive and any expenditure they make. Any contributions by a corporate entity would be attributed to the controlling shareholder and any affiliates of the entity so that maximum contribution limits cannot be evaded. The bill also prohibits lobbyists from bundling contributions; makes money orders subject to the same limitations as cash contributions ; and makes candidates much more accountable for what their political committee's do.
Attorney General Nathan said his staff reviewed other state's legislation; spoke to former members of the council; other elected officials; campaign managers; and good government groups as his office drafted the legislation. Public Citizen, a national non-profit consumer advocacy group said, "If adopted the Mayor's pay-to-play reforms would be among the strongest in the nation".
I urge people to look at the legislation and comment. Then take the next step and contact their Councilmember to urge them to consider and pass this legislation that the Mayor will submit to them when they come back into session in September. The time for such legislative reform is long overdue.