Mayor Reverses Fillmore Closure Plan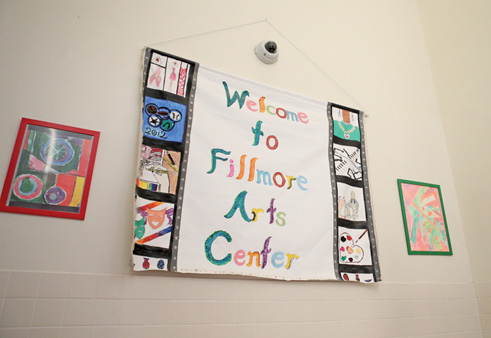 By Mark LiebermanCurrent Staff Writer
Reversing an earlier decision, the mayor and D.C. Public Schools have opted to continue the Fillmore Arts Center program through the 2017-18 school year — but only three of the five participating schools will receive arts instruction there, officials told parents in a letter Tuesday.
Two months ago, the school system's interim chancellor announced that the Fillmore program, which provides centralized arts and music instruction at Hardy Middle School in upper Georgetown to students from five Northwest elementary schools, would be shuttered at the end of the current school year. Community advocates at several schools protested the decision.
Now Mayor Muriel Bowser and the school system have kicked in funding for another year of Fillmore for three of the participating schools: Key, Ross and Stoddert elementaries. Meanwhile, students from Hyde-Addison and Marie Reed Elementary will "transition to on-site arts instruction," according to the letter from Brian Pick of D.C. Public Schools.
Hyde-Addison in Georgetown and Marie Reed in Adams Morgan are both currently undergoing renovations that will add more space for arts programming. Hyde students in particular would have a hard time getting to Fillmore next year, as students are slated to relocate into swing space at the Meyer Elementary campus near Howard University during the two-year construction project.
Pick's letter to parents also announced that all of the District's elementary schools will have access to Fillmore through workshops and other periodic events. Education officials did not respond to requests for further comment on the decisions by The Current's deadline Tuesday night.
In an interview, Bowser said she decided to continue the program because of the several schools that "did not have an option, space-wise or programming-wise." However, Hyde and Marie Reed will be able to accommodate arts instruction at their temporary swing space and permanent locations, she said.
In a separate statement, the mayor cited strong community feedback about Fillmore and praised D.C. Council members from wards 2 and 3 for their advocacy on behalf of the program's proponents. Ward 3 member Mary Cheh, in a statement of her own, said she's "delighted" that Fillmore will continue, and not perturbed that two of the five participants will no longer have regular instruction there.
"Continuing Fillmore for a select number of schools is not unfair to other schools in the sense that the schools who benefit are overcrowded and don't have the capacity to have regular art classes," Cheh said. "It has been, as many parents have said, 'art on a cart' — which is not satisfactory."
John Claud, a Stoddert parent and president of the Friends for Fillmore Arts group, said he thinks the news could portend a longer stay for the Fillmore program, given that Key, Ross and Stoddert don't have any arts space of their own in the works for the near future.
"I'm sad that the kids at Marie Reed and Hyde-Addison are losing out on such a good program," Claud said. "I'm sorry that DCPS doesn't share all of my enthusiasm for it, but I'm glad to see there's some continuation anyway."
For some, though, Fillmore represents a stopgap solution in a longer journey toward in-house arts education for all. John Lever, a Hyde-Addison parent and Citizens Association of Georgetown member, told The Current he likes the program but thinks all elementary students should experience the arts in their own schools, without having to take two bus rides.
"Fillmore is the best Band-Aid money can buy," Lever said. "The Fillmore Arts Center is a great short-term to mid-term solution, but it's not the right long-term solution for any school."
Meanwhile, Stoddert parent and Glover Park advisory neighborhood commissioner Brian Turmail said he's encouraged by the Fillmore news and pleased that a rumored trailer in the Hardy parking lot to replace the existing Fillmore space did not come to fruition. But he remains concerned that Fillmore faculty members will have doubts about working somewhere that's so often threatened for closure.
Under the current arrangement, Fillmore gets a flat $600,000, plus the arts instruction budget of each of the five schools it serves, for a total of roughly $1.6 million. Last spring, D.C. Public Schools wrote to the community that the city spends $1,149 per student to operate Fillmore, in comparison to spending $458 per student across all other elementary schools for art and music instruction.
Bowser said Fillmore might not be a permanent solution, but space concerns make Fillmore suitable for the short term. "We want to be able to address the arts education needs of all of our students … and Fillmore is working for them," she said.
Current correspondent Cuneyt Dil contributed to this report.
This article appears in the Nov. 30 issue of The Georgetown Current newspaper.