Mayor hires new chief of staff and deputy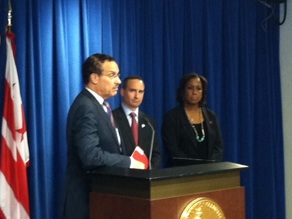 Having survived an August marked by an earthquake and a hurricane, Mayor Vincent Gray is filling in some key administration posts in time for the fall.
Veteran city hall reporter Bruce Johnson of WUSA 9 News says the appointments are an effort "to try and restore credibility to [Gray's] administration."
The mayor has named Christopher Murphy, most recently deputy chief of staff at the U.S. Department of Housing and Urban Development, to be chief of staff. Murphy succeeds Paul Quander, deputy mayor for public safety, who has been Gray's interim chief of staff for the past five months. Quander was appointed to the post after Gray fired Gerri Mason Hall, who was badly damaged by her role in the hiring scandals that dogged the administration almost from its outset. Murphy is seen as newcomer to District politics.
"As an outsider Murphy enters the job with no local baggage," said political consultant and Dish columnist Chuck Thies. "That status is likely to be welcomed by Gray's critics." In addition to a new chief of staff, Gray has hired Andrea "Andi" Pringle to be deputy chief of staff. Pringle is a political and communications consultant with local and national experience.
City Paper's Loose Lips writes: "During the last mayoral race, she helped design an award-winning mailer critical of then-Mayor Adrian Fenty paid for by developer Don Peebles to help the Gray campaign in Ward 8.
Pringle, a Howard grad, served as Gov. Howard Dean's deputy campaign manager during the screamin' doctor's 2004 presidential bid. She's also worked for former presidential hopefuls Gov. Bill Richardson, the Rev. Jesse Jackson, and Sen. Carol Moseley Braun.
Pringle's résumé also includes several local campaigns, including at-large Councilmember Vincent Orange's last two races. Pringle's done consulting or direct mailing work for Ward 5 Councilmember Harry Thomas Jr. and attorney-to-the-stars A. Scott Bolden (who unsuccessfully challenged Councilmember Phil Mendelson in 2006)."