Mayor Gray Gets a Philly Cheese & Chocolate Shake at Johnny Rockets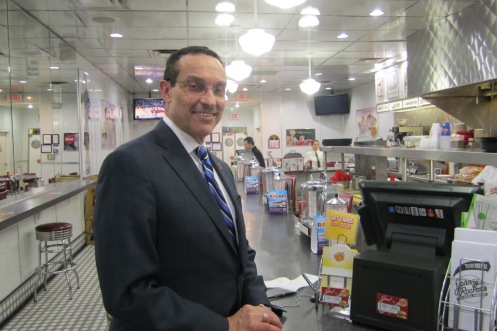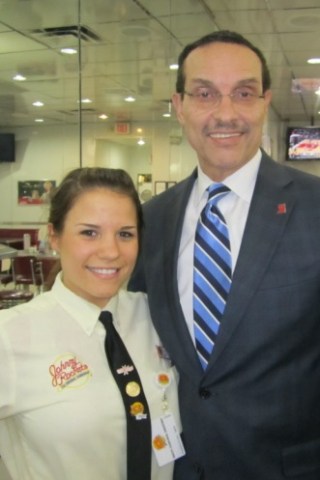 It was a rainy, unusually warm-for-January Monday evening for a Georgetown along M Street when The Georgetown Dish spotted what looked like Mayor Vincent C. Gray's big black SUV parked on the north side of the street. Recognizing his security person and "body man," we looked around, and there he was, the Mayor, in Johnny Rockets, ordering a Philly cheesesteak and chocolate shake.
"I don't go in for that pomp and circumstance," he said when we complimented on being at the counter by himself. And when we suggested that there was nothing like being in Philadelphia for real cheesesteak, the Mayor asked rhetorically, "You know who owns Johnny Rockets? Dan Snyder. In fact you see them [Johnny Rockets] all over FedEx," perhaps suggesting that a Johnny Rockets diet can hasten RGIII's recovery.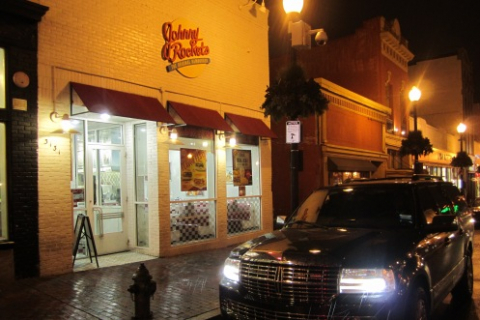 Brooke Aleman, his server and store manager, also recognized the Mayor. She smiled and posed with him as he awaited his order. She's been with the chain for six years and, when asked, she answered emphatically: "I love my job."