Mayor Bowser Awards Additional $6.8 Million to Local Entrepreneurs and Small Businesses
Latest awardees for Great Streets, Locally Made, and Neighborhood Prosperity Funds.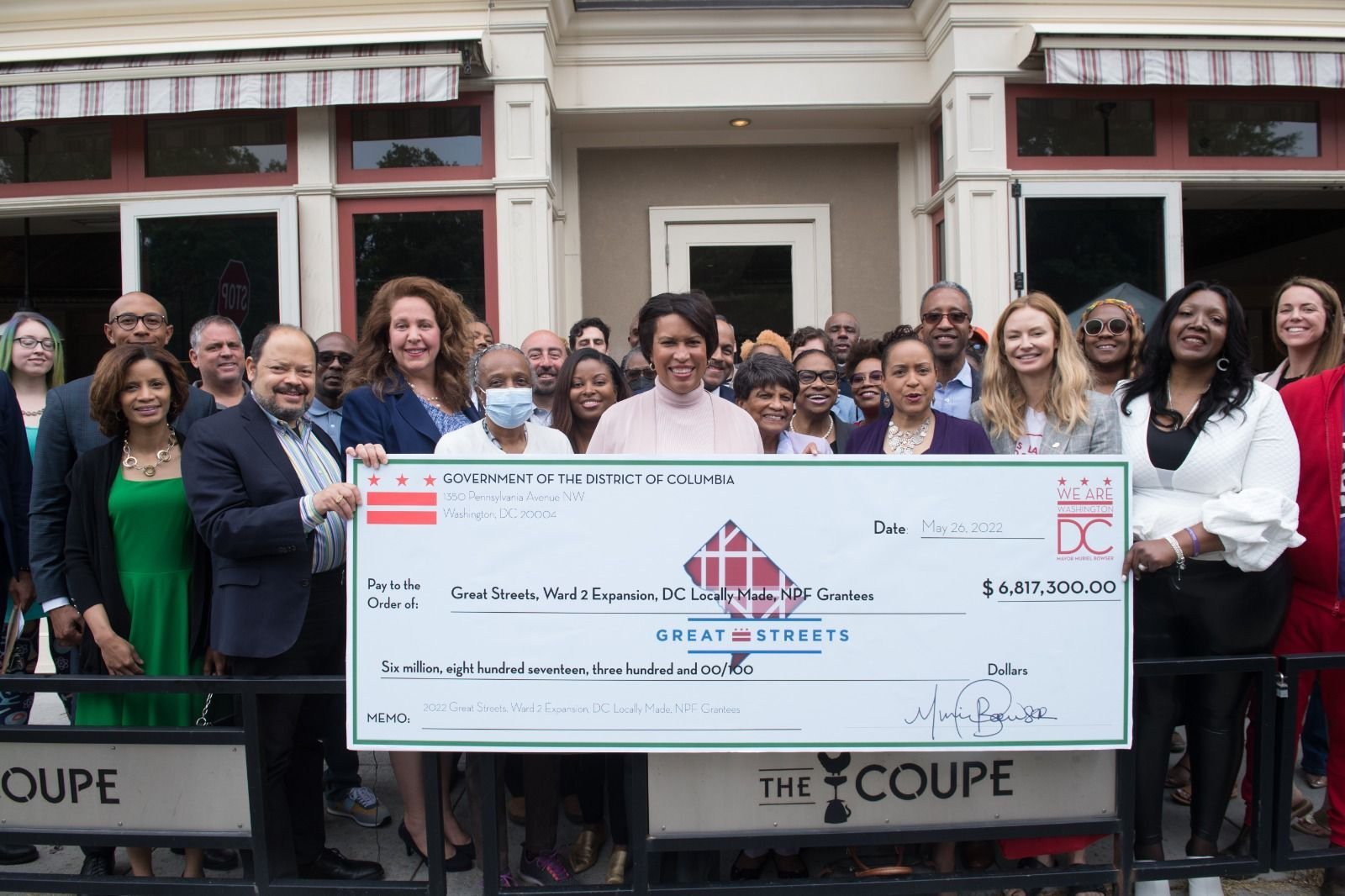 Last week, DC Mayor Muriel Bowser and the Office of the Deputy Mayor for Planning and Economic Development (DMPED) announced the latest round of awardees of the $2.5 million Great Streets Retail Small Business grant program, the $317,000 Locally Made grant program, and the $4 million Neighborhood Prosperity Fund. 
These grants build on the more than $350 million in recovery support that the District has invested in DC businesses since 2020 and continues Mayor Bowser's effort to increase employment for residents and offer light manufacturing opportunities that provide economic stability, mitigate blight, and add vibrancy to our designated Great Streets corridors.
Through Great Streets, more than $40 million has been awarded to over 400 small businesses creating more than 4,000 jobs.
"We know how difficult the past two and a half years have been for local businesses, but we've been working hard to understand the needs of the small business owners in the District," said Mayor Muriel Bowser. "And since the pandemic started, my administration, with the Council's support, has invested over $350 million to support DC businesses."
Led by the Office of the Deputy Mayor for Planning and Economic Development, the Great Streets Initiative is a capital improvement grant that invests in new and existing retail storefronts in 13 emerging corridors known as great street corridors, to create walkable and shoppable amenities for residents to experience in all neighborhoods. This year, Great Streets Initiative awarded 36 businesses across all eight wards, plus the 18 businesses receiving Ward 2 expansion funds.
The Fiscal Year 2022 grantees include a wide range of local businesses, including restaurants, breweries, fitness studios, and more. In Ward 2: Pearl's Bagels, Tugooh, Market Square Cleaners, Secrete Fine Jewelry, 1333 14th Street NW, Yoga District, Lee Café Fairfax, BardiBari Restaurant, Greek Deli & Catering, Luna Café, Glass House Coffee, O Street Museum Foundation, Mason's Famous Lobster Rolls, Flight, Transformational Acupuncture, ExPats Theater, Maxwell Park Shaw, Nari, Penn Quarter Sports Tavern
For recipients of all wards and more information, visit mayor.dc.gov.