Max's Ice Cream Gets Summer Reprieve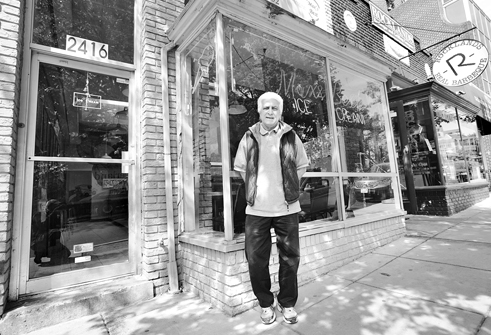 By Alix PianinCurrent Staff Writer
After an outpouring of community support, the 20-year-old Max's Best Ice Cream will be allowed to remain operating in its current Glover Park location through Oct. 31 — before permanently clearing out.
A legal agreement reached by shop owner Mahmood "Max" Keshani and landlords Gail and Barbara Bassin will allow Keshani to continue running the shop through the fall, according to a statement released Saturday by the Bassins' attorney, Glenn Bonard.
"Max and Gail and Barbara Bassin, the owners of the property, have agreed that this represents a fair and reasonable outcome for all involved," Bonard wrote in the statement. "It gives Max and the community the benefit of having Max's Best Ice Cream in Glover Park for the entire 2013 summer and part of the fall."
The statement had been signed by all involved parties, Bonard added.
Earlier this summer, the Bassins had informed Keshani that his lease would be terminated at the end of June, at which point the sisters would be establishing a new long-term lease with neighboring Rocklands Barbeque and Grilling Co., whose property they also own. The new lease will allow Rocklands owner John Snedden to expand.
Max's, located at 2416 Wisconsin Ave., has been a go-to for Glover Park ice cream fans for the past two decades. Last month, an online open letter at change.org asking the Bassins to reconsider garnered more than 500 signatures, and a "Save Max's" Facebook page has more than 860 "likes." The Glover Park Citizens Association also sent a letter asking the Bassins to reverse course.
In May, Snedden said that Rocklands had become a target for harassment, and filed a police report after two inflamed incidents inside.
Snedden said many of the neighborhood complaints have died down since the landlords released a statement of their intentions for the properties. "It seemed like people calmed down after that, and were more considerate," he said. "We certainly had people who would like to have seen a different outcome reached, but other people just in passing, walking on the street have offered words of encouragement."
Snedden also noted that the space will be used by an already well-loved local restaurant, and not interlopers from an unknown restaurant group or national franchise.
When reached by The Current this week, Keshani declined to issue a formal statement for both "personal and legal reasons," but described the situation as "twisted."
Still, Keshani had nothing but glowing remarks for his devotees in the neighborhood. "Everything I could do over the past 20 years, I did. … I'm grateful for the people who have been supporting me all along," he said. "They know I've been robbed."
Keshani accepted the property owners' Oct. 31 compromise on the advice for his daughter Neda, who has taken on a management role at the store, according to Joe Fiorillo, a longtime Max's customer who has been following Keshani's travails.
Fiorillo, who is also a Glover Park advisory neighborhood commissioner but has followed the issue as a private citizen, said Keshani is "really taking [the closing] rough."
Fiorillo said Neda plans to take inventory of the kitchen equipment currently in Keshani's shop to determine what pieces of machinery — some of which has a value running into the hundreds of thousands of dollars — belong to the building itself, and which belong to Keshani. According to Fiorillo, the family hopes to either work out an agreement to leave behind the equipment for Rocklands for a price, sell it elsewhere or store it.
Snedden has been operating Rocklands for more than 20 years, and has long expressed a desire to expand table and chair space, as well as to add food runners — effectively making Rocklands a sit-down restaurant. The planned expansion will also allow Rocklands to install bathrooms in the restaurant, and provide more space for its growing baked-goods offerings.
"There's no right and there's no wrong here. It's just two guys who each had a business, but never had a personal relationship," Fiorillo said of Snedden and Keshani.
He also dismissed some residents' suggestions that Snedden had secured the lease in a way that was not aboveboard.
"[Snedden is] a squeaky clean guy. He supports the community, and he's very enterprising. It just came at a bad time for Max," said Fiorillo.
Community members have been trying to offer alternate suggestions for Keshani to possibly set up shop elsewhere on Wisconsin Avenue, but Keshani has been reluctant to entertain moving his ice cream store.
A source close to Keshani who declined to be identified said that "you can't really address moving with Max, you can't look for another space. He doesn't want to hear that."
Snedden said he hasn't yet had access to Max's store but anticipates being able to check it out within the next couple of months.
Renovations for Rocklands' expansion will begin after Oct. 31, he said, and he anticipates finishing construction by early December.
This article appears in the July 3 issue of The Georgetown Current newspaper.