Marine Corps spouses get makeover on U St.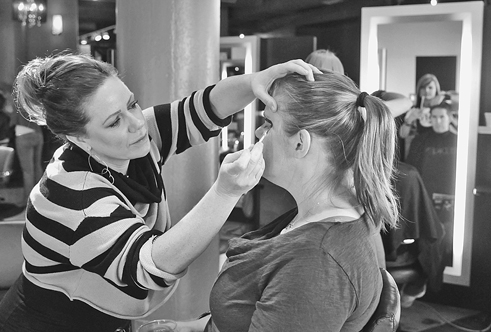 By Anna Weaver Current Correspondent
Tammie Gates had just 10 days' notice before her husband, Marine Corps Maj. Ted Gates, deployed to Afghanistan this past August. The couple had just moved into a new house in Virginia, and Tammie suddenly found herself handling home renovations, their 2-year-old son and her job all by herself.
It's been a hectic seven-month deployment for Gates and the other military spouses of the 4th Civil Affairs Group, a Marine Corps reserve unit based out of Anacostia.
And as they anticipated the unit's homecoming in early March, several of the wives got to take a beauty breather on Sunday during a free makeover afternoon at Bang Salon on U Street.
"The most difficult thing right now is to get my house clean before my husband comes home," Gates said of the life-juggling she's been doing during the deployment. So the chance to be pampered, she said, was a wonderful break.
Gates and four other military spouses were treated to haircuts, eyebrow grooming, makeup applications, swag bags and refreshments at the four-hour event, which came about after unit wife and longtime Bang client Jessica Erfer mentioned her husband's deployment to salon manager Patrick Guarniere.
Guarniere talked with the salon's owner and arranged for the makeover day. He said the salon wanted to give the women "a day that's special to them, so that they can just not think about what they've been through the last several months."
Several of Bang's stylists came in on their day off to help with the makeovers, and Flaminia Garioni of Fyubi Makeup took care of makeup applications.
At the salon entrance were balloons and a poster on which people wrote their words of thanks and encouragement to the returning reservists and their families.
Erfer, who lives around the corner from the U Street establishment, said it's been stressful to go from having a spouse around to help with everyday life tasks to spending more than half a year taking care of things by yourself.
"Some people have been juggling jobs and kids and school alone," she said of her fellow wives.
To sit back and have other people do things for them for an afternoon was a welcome change, Erfer added, especially as all were feeling anxious about their husbands' return.
"The last 30 days are the longest stretch of time during a deployment," she said.
Sarah Ramirez talked about her experience as a new military spouse as she sipped sparkling cider before getting her hair trimmed. She and her husband, Sgt. Walter "Antonio" Ramirez, were married last April.
"Now that I'm excited for him to come home, it's getting tougher," Ramirez said.
She said she hadn't anticipated the extra pampering. "I'm so new to the military that I didn't expect it. I didn't realize how much people cared."
As her makeup was getting finished, Gates said she was looking forward to showing her new look to her husband when she and their son, 2-year-old Aidan, travel to North Carolina to welcome the unit back.
"I just want to be there when he sets foot on U.S. soil," Gates said, and she wants Aidan to see his father right away.
"He understands 'Daddy' as a picture, 'Daddy' as a voice on the phone," Gates said. "I'm not sure he understands 'Daddy' as a real person."
This article appears in the Feb. 29 issue of The Georgetown Current newspaper.