Mardi Gras brings celebrations for paws and people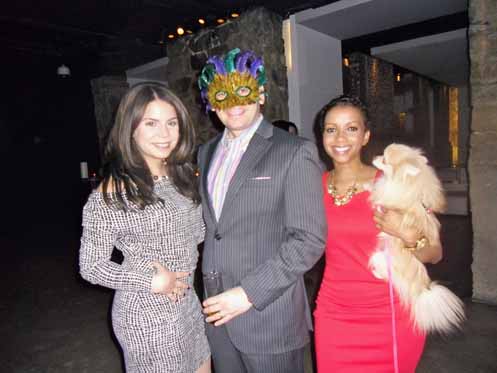 This past Tuesday was as much "Fat Tuesday" as it was "PHAT Tuesday" as venues all over DC displayed their red, gold and green.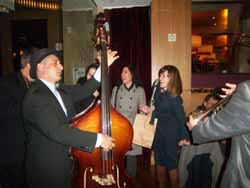 At L2, Rokas Beresniovas, Angelique Velez and Kara Allen celebrated Mardi Gras with a Fashion for Paws fundraising bash that included not only adorable pups but also Mint Julips, feathered masks and of course bushels of beads. L2 has become a hotspot for F4P events. The club has done everything from design special drinks to throw open its doors to 'models' and their pets. Other fundraising events around Georgetown have taken place at Ella Rue, Smith Point, Peacock Cafe and Urban Chic.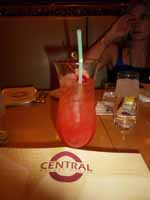 The March holidays will again go to the dogs on March 17th with an F4P St. Patrick's Day fundraiser at Hudson. Other upcoming events include "Walk the Dog" with DJ Neekola on March 16th and a live concert featuring Suspicious Package on March 26th both at 19th.
Central Michel Richard capped off their Mardi Gras celebration with a blow out fit for a King. Revelers sipped Hurricanes and other iconic festival cocktails while dining on special that included everything from fried oysters with caviar to Gumbo with duck confit. Of course there were the beads, holiday décor and the sounds of live Music from Laissez-Four. But even better, special menu included Fried Oysters with Caviar Creole Remoulade, "Biscuits and Gravy," -"Rose's Gumbo" and Brandade Beignets. Special French Quarter cocktails a la NOLA includingThe Hurricane, Absinthe Suisesse, Sazerac, Cocktail a la Louisienne, La Fee Verte, Vieux Carre and the Corpse Reviver #2 and Lousiana's own Abita Brewing Company "Turbo Dog Ale" were also featured.