Mall likely to house Target, Bloomie's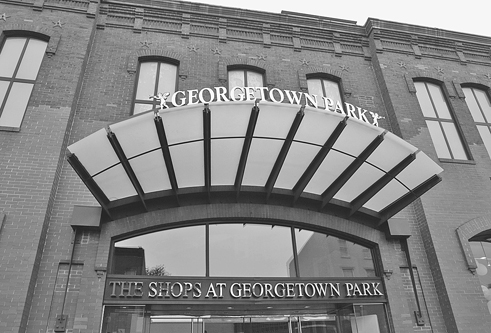 By Carol Buckley . .
Current Staff Writer
The to-be-redeveloped Shops at Georgetown Park is closing in on deals with two large retailers to anchor a revitalized mall, according to sources familiar with the negotiations.
Big-box retailer Target and a Bloomingdale's boutique will occupy large swaths of the long-troubled Georgetown shopping center, say the sources, who spoke on the condition of anonymity.
Representatives of Minneapolis-based Target and mall management declined to comment on the reports, and a Bloomingdale's spokesperson did not reply to The Current by deadline.
The inclusion of Target may spark a long-running debate over the nature of retail in historic Georgetown. A survey by the neighborhood's business improvement district last year revealed that some see the presence of ubiquitous brands such as Starbucks as a drag on the area's cachet.
But that same survey noted that some well-known retailers are able to retain a veneer of hipness, and Bill Miller, director of retail leasing for local firm Transwestern Retail, said that Target may be one of them.
"Target is probably the best in class for a mid-level tenant," said Miller, a West End resident and expert on local retail trends. Not only does it fill a need in the neighborhood for home goods -- "Where can you buy a spatula in Georgetown?" he asked -- but the popular chain could also be the solution for the mall's hardest-to-fill spot.
The shopping center's lowest level -- which sits two floors below M Street and is now occupied by a moribund food court -- is the "biggest, deadest space" in the mall, Miller said. Subterranean spots are hard to sell to tenants, he added, but a store like Target could fill the space -- and draw the customers, he conjectured.
The District now has only one Target, and it sits in a Metrorail-accessible location at Columbia Heights. Transportation and parking will likely be a major point of concern for Georgetown residents when the mall's redevelopment comes up for review, and the inclusion of a popular store like Target may further those concerns.
If Bloomingdale's does ink a deal to locate in the Shops at Georgetown Park, it would mark the second time the retailer has attempted to put its first D.C. store in that location. According to sources, Bloomingdale's is looking to put a downtown-cool "SoHo" spot in the mall, the same concept that was announced in 2008 as a new anchor tenant for 82,000 square feet in a post-redevelopment mall.
But that announcement proved too optimistic, as then-owner Western Development defaulted on a note and lost the mall at auction to New York firm Angelo, Gordon & Co. Vornado Realty Trust was brought on to manage the space.
Even if both retailers sign leases tomorrow, neither will open its doors in Georgetown for at least a couple of years. The design review for a redevelopment will be stringent -- as it was a few years ago when Western Development went through the process. Weighing in will be the local advisory neighborhood commission, city agencies and even the National Park Service.
But even though neighborhood debate is likely to be intense, given the scale of such a project, the ultimate decision to greenlight any project will rest with the Old Georgetown Board and the U.S. Commission of Fine Arts. Both are made up of federally appointed architects tasked with protecting the neighborhood's historic character.
This article appears in the March 9 issue of The Georgetown Current newspaper.