Making Washington Work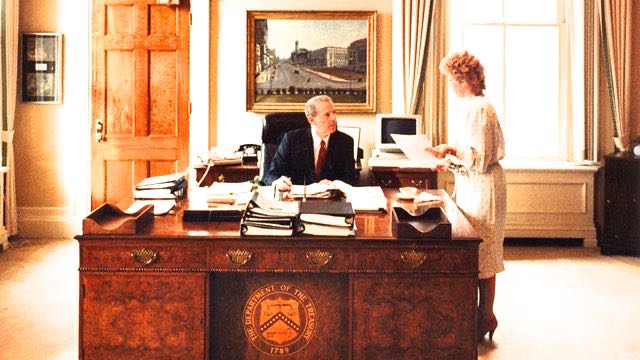 James Addison Baker III defines charisma – a personal magic of leadership. The former Chief of Staff to President Ronald Reagan who accidentally worked his way up the political food chain is the subject of a PBS documentary that airs on March 24th: James Baker: The Man Who Made Washington Work narrated by Tom Brokaw. It explores his life and long political career; a remarkably savvy power player, deal-maker and diplomat respected on both sides of the aisle for his ability to get things done.
John Hesse explained the making of a consummate statesman: "I think the birth of his children and the death of his first wife was certainly part of his growth as a lawyer and his career here in Houston. That was before he got into politics. I think that whole experience probably showed or brought forth his strength in being able to endure and pull through something that was obviously very traumatic. He explains himself that it was a very hard time for him. As he put it, if there was ever a time he was going to 'twist off' as he says, that would've been it. But fortunately, I think the support of in particular his good friend George H. W. Bush helped refocus him. I think that was a turning point in his life. It launched him into another career that he had not anticipated and I think really set the path to the future that we know now was pretty historic."
A little background: "Baker's first wife, the former Mary Stuart McHenry, was active in the Republican Party working on the Congressional campaigns of George H. W. Bush. Originally, Baker had been a Democrat but too busy trying to succeed in a competitive law firm to worry about politics and considered himself apolitical. His wife's influence led Baker to politics and the Republican Party. He was a regular tennis partner of George H. W. Bush at the Houston Country Club in the late 1950s. When Bush, Sr. decided to vacate his Congressional seat and run for the US Senate in 1969, he supported Baker's decision to run for the Congressional seat he was vacating. However, Baker changed his mind about running for Congress when his wife was diagnosed with breast cancer; she died in February 1970," according to Wikipedia.