The Magical World of Frank Babb Randolph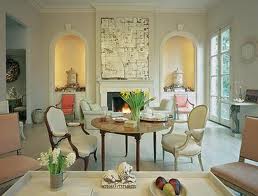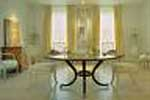 Frank Babb Randolph talks about furniture like some people talk about their pampered lapdogs. Inanimate objects seem to come to life when he speaks of them. These are not chairs and tables, these are friends who are invited to dance on bare, bleached oak floors. Chairs to be drawn up to the fire for a candlelight supper.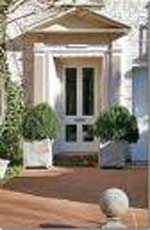 Randolph is a minimalist. But in an 18th century way. There is much breathing room in his designs. His work is all about natural light, fresh air, flowers, and wood burning fires. But sophisticated. Rather like a spring day in Paris. His rooms are mobiliser …" in motion", always fluid. These rooms are never forced. "Everything in its own time" Randolph is known for his monochromatic palette, using whites and creams to create a serene space. Color is added through art and textiles, also always in motion. Perfection is not a requisite. You will find no botox in any of Randolph's work. As long as it is beautiful, imperfections are forgiven. Chipped paint, faded fabrics and other signs of aging are embraced. It's all about the patina which "gives a sense of life, reality, time spent. We like people as they grow older to share their past. Furniture should have experience too."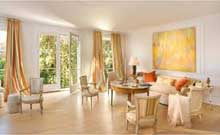 Whimsy is encouraged. Like the pair of French slipper chairs that once belonged to Cole Porter, now covered in a 1920's velvet. Eighteenth century antiques sit side by side with exquisite reproductions, with no embarrassment.
Although Georgetown is his natural habitat, Randolph's design integrity and respect for history landed him the coveted assignment to decorate the Vice President's Residence several years ago.
To see Randolph's most recent work unveiled, stop by your newstand for the April 2011 issue of Veranda magazine. In it is a ten page spread on his most recent project: the Georgetown home of Robert Rea, longtime friend and artist. Rea's honest brushwork, muted and subtle palette, and a sense of depth and spatial relationships.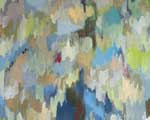 It is easy to see why these men are friends. They have a shared esthetic and a love of nuance in nature. Randolph's rooms are the perfect foil for Rea's paintings. Randolph enhances Rea enhances Randolph. Rea too is featured in Veranda magazine. His new exhibit, " Robert Rea: A Lyrical Palette" is on view at Susan Calloway Fine Arts in Georgetown, 1643 Wisconsin Avenue, from April 2-16. Frank Randolph can be reached at 202-944-2120