Madeline Wade Studio: Escape into style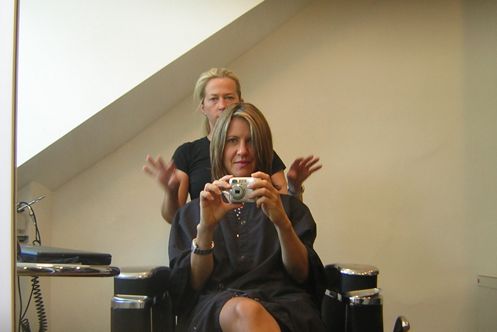 Beyond a wooden gate under an archway near Wisconsin and Dumbarton, a secret courtyard is nestled under trellises of leafy branches. You step in, not sure what to expect. "Hi, I'm Madeline," calls a friendly voice. Up a few steps, you enter an airy studio with a vintage salon chair center stage. The walls are white, the furniture is black. Fresh flowers sit in a vase perched on the windowsill. It feels artistic. But there are no paint cans or unfinished canvasses in sight. You have entered Madeline Wade's Georgetown studio, where magical hair and styling take place at the hands of a French-trained pro. You are the canvas. "I've been thinking about your cut," she says matter-of-fact-ly. "You're no nonsense. You need a cut with minimal maintenance necessary. And you need highlights that act like the sun." She offers water -- sparkling or flat -- with a garnish of blueberries. It's 8:00 o'clock on a
Image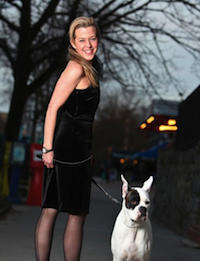 Wednesday morning, but it could be 8:00 pm on Monday or 7:00 am on Sunday. Wade (at right with boxer "Harley") offers appointments according to her clients' needs, not the antiquated, typical Tuesday-through-Saturday salon schedule that makes little sense for today's harried life. Wade is a trained artist. After an education with Carsten Wilms she joined Jacques Dessange for nine years, learning the famed technique developed in Paris. She starts with the structure of the human face, bringing out its qualities through the art of the cut, the color, and the movement of the hair, face and body. In Wade's hands, the cut has a structure and flow. A precise beginning and end, with a thousand subtle snips in between.
She enhanced her training by traveling across the country, residing for a time in the West, including a stint i the Colorado Rockies, taking in the wind and the country's magnificent landscape on her Harley Davidson. Wade brings that aesthetic background to Georgetown, where she opened her own, private, by-appointment studio. Just before President Obama's Inauguration, with hyper-important appointments stacked back-to-back, she fell down a set of stairs and fractured her elbow, wiping out her ability to work for weeks. It was a severe setback that arrived just after the studio's launch. Then, about one year ago, her motorcycle went down, leaving her face cut, bruised and bloodied. For a natural beauty in the business of demonstrating and creating elegant good looks for others, it was a debilitating blow. Recovery, with aches all over her body, took months. Wade exhibits the calm that comes from surviving, and transcending, that pain. In her studio, clients can find a peaceful environment, available on their schedules, with an artist at the helm. Wearing jeans and a simple white or black shirt, she would blend into the scene in Soho, Montparnasse, or Barcelona. While her training is classic, the studio is modern. An iPad and a flourishing Facebook page feed her creativity. During my own visit, Wade proposed an ambitious cut about which I was nervous. Beating back the fear in her calming presence, I was rewarded. It's a great step forward into style.
"I see people on the street, and I want to stop them and tell them what they need," she says.
Recommendation: don't wait for Madeline Wade to stop you on the street....
Madeline Wade Studio, 3147 Dumbarton Street, by appointment at (202) 333-2223.Read more here on the web. And more on Facebook.