Made in the Shade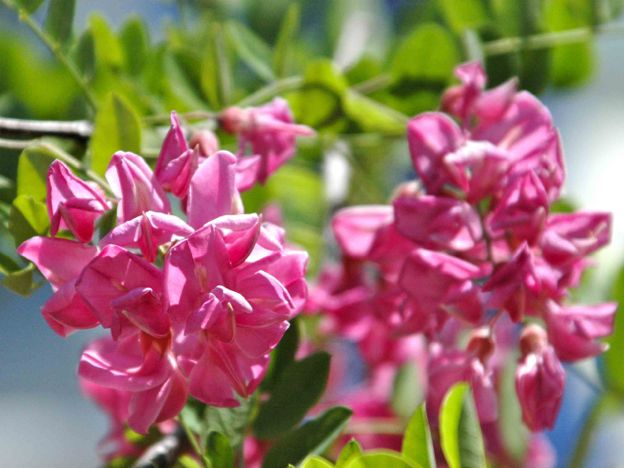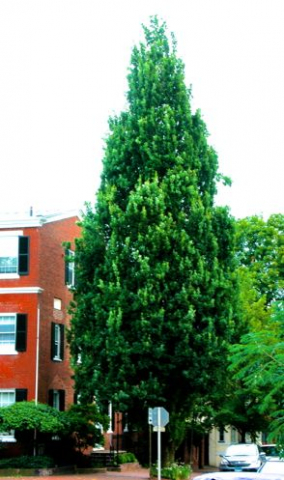 This week is going to be hot. After walking on the sunny side of the street to stay warm for the last three months, I am looking forward to being warm enough to walk on the shady side of the street. Thanks to Trees for Georgetown and the street trees it has planted over the past 14 years, there is always plenty of shade to go around.
The tradition of planting trees began with Thomas Jefferson, who was distressed over the destruction of natural groves of trees in Washington which were being felled as the city grew. Unable to stop this trend, Jefferson directed that Lombardy poplars (Populus nigra), a native of Italy, be planted along Pennsylvania Avenue from the Capitol to the White House – the first recorded planting of street trees in Washington, DC.
According to Melanie Choukas-Bradley and Polly Alexander, authors of the excellent book, "The City of Trees", the practice of adding and preserving trees in Washington was continued on by the landscape architect, Andrew Jackson Downing, in the mid-1800's; Alexander "Boss" Shepherd (the second of two District Governors); and the planting of the cherry blossoms given to the United States by Japan in 1912. Today, Washington boasts one of the most diverse and extensive tree canopies of any city in the world.
Street trees need to be maintained and replaced when they die. Fortunately for us, Trees for Georgetown, a volunteer committee of the Citizens Association of Georgetown oversees this effort in our community. This year, Trees for Georgetown hopes to plant up to fifty trees.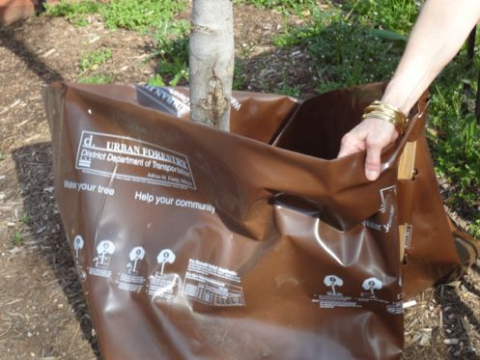 "We'd love to plant more, but it all depends on how much money we raise at this year's Spring Celebration on May 8th", says Betsy Emes, long-time chairperson. "Every year we lose trees and it's important to keep replacing them. One of our oldest trees was lost to Hurricane Sandy last fall, and another was knocked over in a traffic accident. Other trees have been lost to drought, and other acts of God and people so we are always replacing them."
On May 8th, Trees for Georgetown will hold its annual spring celebration and fundraiser to help raise money for its work. It is also launching a new program that will help Georgetown residents connect and care for its street trees. Called the "Georgetown Initiative for Family Trees (GIFT)", the program 's mission is to "root the people and businesses of the community to the trees that shade our streets". Jackie Pletcher and Constance Chatfield-Taylor, two of the co-chairs of the Spring Celebration, are excited at the prospect of connecting residents and their trees.
"When I was a child, we planted mimosa trees in our garden, and we watched them grow as we grew up", said Constance. "GIFT gives people and families right here in our neighborhood a chance to do the same thing."
Georgetowners will be able to sponsor a tree, whether to celebrate the birth of a baby, commemorate the passing of a milestone, memorialize a special person, or even to honor a pet. Each sponsored tree will be marked with a tag containing a QR code that will list the reason the tree was sponsored, by whom, and what species of tree it is. QR codes are the next generation of bar codes and can easily be read with a smart phone equipped with a special app that can be loaded for free. GIFT's vision is to fill every tree box and maintain and name every tree in Georgetown.
Since its inception in 1989, Trees for Georgetown has planted over 2000 trees, provided tree box fences, and watered our street trees in partnership with the Urban Forestry Administration and Casey Trees.
The Spring Celebration will be held on May 8th from 6:00-8:00 pm. For more information on how to sponsor a tree ($500) or have a tree planted ($1000) by GIFT, please call 202.345.2400 or e-mail giftrees@gmail.com