A Mad Men for all Four Seasons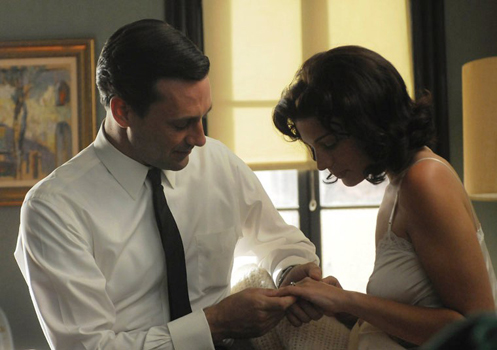 With the soundtracks of Seasons 1 and 2 piped into the lobby of the Four Seasons Hotel, all you needed was to follow the whiff of Beef Stroganoff to find the celebration of Mad Men's 4th Season Finale taking place in the private dining room of Michael Mina's Bourbon Steak Restaurant. Then, all those pearls, the pill box hat and elbow length gloves suddenly made perfect sense.
Under the stewardship of manager Dan Mizrahi, server Paul Womble, captain, John Gilbert and bartender, Kazuki Sakamoto, the guests at the sold-out event enjoyed cocktails, a sixties-inspired prix-fixe dinner that included Swedish meatballs, green bean casserole and iceberg lettuce salad, before being treated to truffle popcorn to watch "Tomorrowland."
Winning "Best Dressed "(along with Michael Mina's cookbook and a bottle of his 2008 Qupe Santa Barbara Syrah) was die-hard fan Toya Johnson. Her favorite line from all four seasons was in Season 3 to Henry from his mother: "Why would you want Don Draper's trash?" Last night, it seemed as if Henry was finally asking himself just that question. When Don proposed to Megan, there was an audible gasp in the room. But did anyone ever doubt that Faye Miller's fate was sealed after her lack of mommy skills were exposed earlier in the season? Or when she caddily said, "Have your girl make reservations." It was a season that began with a reporter asking,"Who is Don Draper?" and ended with Sally asking, "Who's Dick?" It was about more than Don Draper's lost weekends, weeks and months following his divorce, and his attempts at integrating his past (with the help of the doomed Dr. Faye). You could see where things were headed when Stephanie gave Don the engagement ring Anna had bequeathed to him, the one she'd received from the real Don Draper.
This was one evening when there was more alcohol consumed off camera than on screen. I counted a series low of four drinks (and that includes a shot of whiskey Don's financial advisor slipped into his own coffee AND Henry's oh-why- did-I-ever-marry-Betty-beer). And except for the furtive puffs exchanged between Peggy and Joan in their pow-wow over THE ENGAGEMENT, smoke did not get into everyone's eyes.
While Peggy was pitching the wonders of Topaz pantyhose, the room erupted in giggles over the idea that wearing pantyhose was perfect for work, an evening out and for sport! "There's a business I know that makes its employees wear pantyhose," a dinner guest said with a grimace. There was a time (some of us can remember) when the invention of pantyhose meant relief from garters and girdles. If you have no idea who these characters are (and why their quests for happiness and success mean so much), you can still enjoy knowing that Michael Mina's Bourbon Steak Restaurant in the Four Seasons Hotel with its emphasis on seasonal ingredients and organic beef and seafood, also has a bar the Mad People of Sterling Cooper Draper Pryce would kill for.
"Don't you want to go home and see a steak on the table?" This question was posed to Don, living in a dingy Greenwich Village apartment following his divorce from Betty as he sorted out the value of his properties. The answer: "Yes," especially if it's poached in butter from Michael Mina's kitchen.