Culture
|
October 15, 2023
|
Macbeth in Stride
A rocking fun night at the theater.
I had little advance warning of what this show was about. I heard it was Shakespeare, in the form of a rock musical. It could have been a mess as far as I was concerned. Instead, what I got in about 90 minutes, with no intermission, was a rocking fun night. Great voices, great costumes, great lighting, and great music. 
Macbeth in Stride at the Shakespeare Theatre Company (STC), is a show produced in association with the Philadelphia Theatre Company and Brooklyn Academy of Music. It is co-directed by two very talented people, Tyler Dobrowsky and Taibi Magar.
The show has been created, and is performed, by STC Associate Director, Whitney White.  She had previously directed STC's The Amen Corner, and Broadway's Jaja's African Hair Braiding. White said, "When I fell in love with theatre, I also fell in love with Shakespeare. But when I was working as a performer and receiving my training, I wasn't seeing productions that represented my experience or even a world I could recognize. Yet, when I read Shakespeare, I hear my world, my friends and family, my music. And so, Macbeth In Stride is my love letter to Shakespeare and music history, told through the eyes of an ambitious Black woman." It has been said "White looks at the fatalistic arc of Lady Macbeth, uplifts contemporary thoughts on Black female power, femininity, rage, and desire."  I agree, and we, the audience, get to appreciate the wonderful results of her work.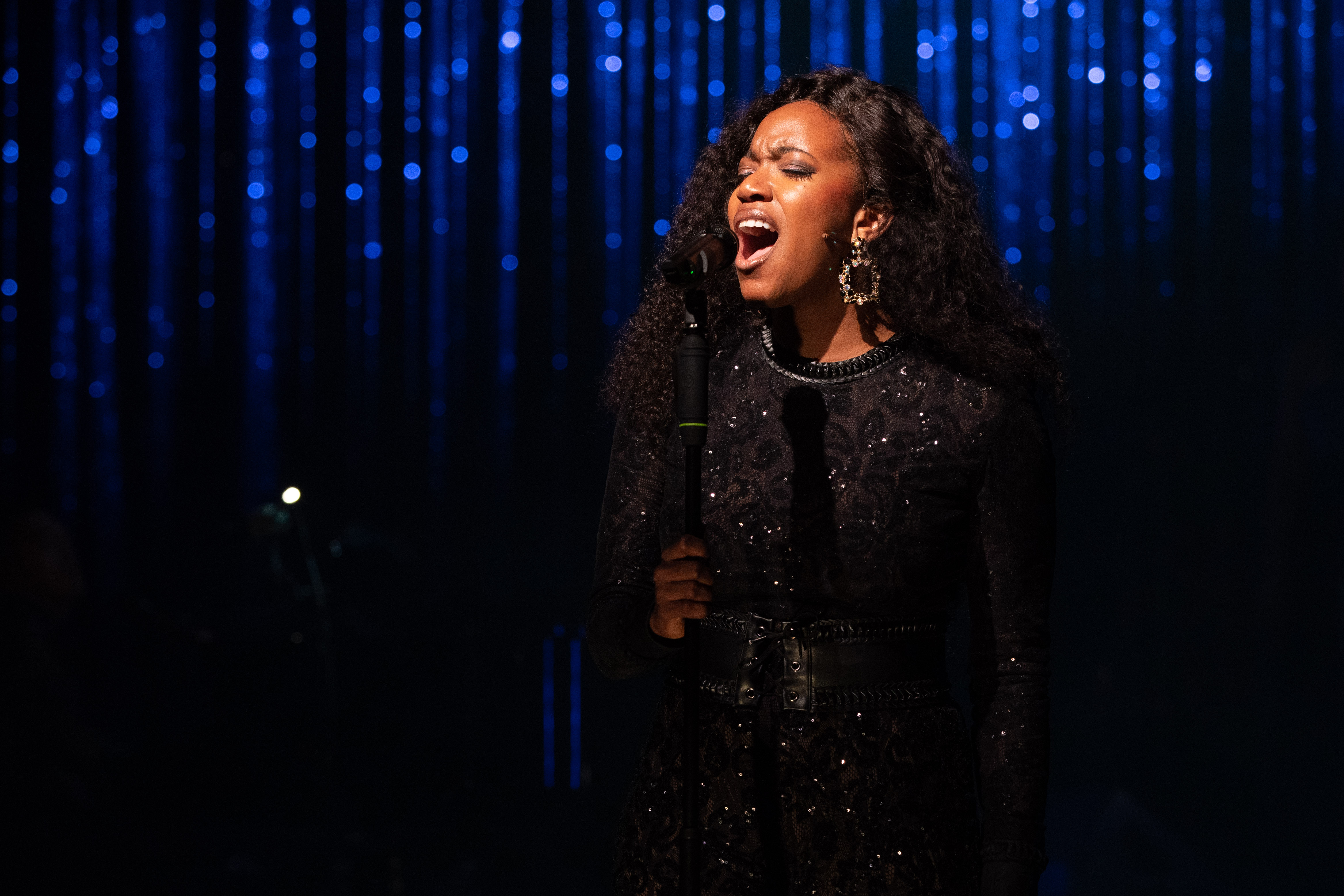 White is absolutely amazing in the role of woman, or some may call her Lady Macbeth. From her stunning entrance, she holds the stage. She has a beautiful and powerful voice. Then there are the three witches who put the question to her, and to the audience; as a woman, what is it you want from life. Is it freedom to be who you are, is it power, what exactly do you want? The witches are played to perfection by Stacey Sargeant (1st witch), Ximone Rose (2nd witch), and Chelsea Lee Williams (3rd witch).
Then there is man, or as some would call him, Macbeth. Played by the very talented Charlie Thurston. He has a beautiful voice, and noted by some in the audience, a great body. He also plays the accordion, and uses it to highlight some of the scenes in a beautiful, and sometimes funny way.
The creative team is superb. Choreographer is Raja Feather Kelly, Music director is Steven Cuevas, Scenic Designer is Daniel Soule, Costume Design is by Qween Jean, Lighting Design Whitney by Jeanette Oi-Suk Yew, and Sound Designer is Nick Kourtides.
Macbeth In Stride will be at STC's Klein Theater until October 29th.  You can buy your tickets online. The theatre gives a warning "This production contains fog, haze, loud music, and bright flashing lights including strobe effects."