Luscious Fingerling Potatoes with Fried Eggs - Without Guilt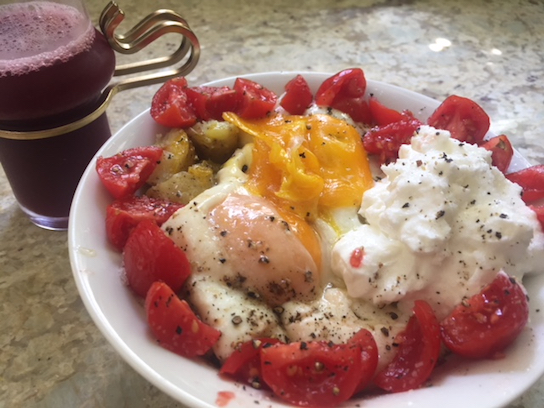 I love potatoes! Doesn't everyone? There's been so much potato-bashing, though, everyone seems afraid to eat them; and that's a shame. Potatoes are filled with vitamin C, vitamin B-6, potassium, fiber, and antioxidants. I found some to-die-for golden fingerlings at Trader Joe's that have become a staple for their utter deliciousness (it's only a handy fact that they're nutritious, too).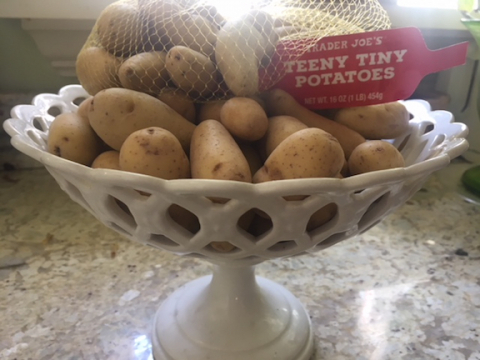 Their flavor is rich, buttery, and nutty. Their texture is velvety. All I do is boil them in salted water until a fork easily pierces the biggest one. I strain out the water and eat them almost every day - keeping them in the frig in a plastic container - until I run out, and boil some more.
My buttery golden fingerlings with fried eggs, greek yogurt, and cherry tomatoes start with the potatoes, of course. I measure out 6 ounces (160 calories) of boiled potatoes; a surprisingly large amount, I'm happy to see!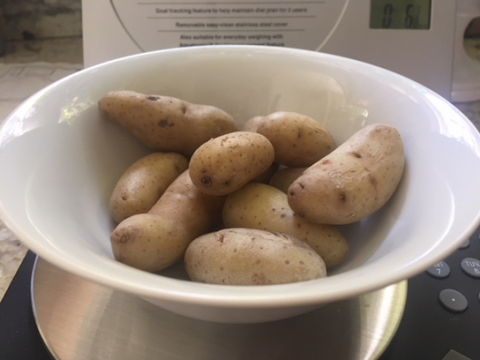 Then I quickly fry the eggs in a tablespoon or two of butter with canola oil in a non-stick pan. I sprinkle with freshly ground pepper and a bit of kosher salt. I prefer them over-easy...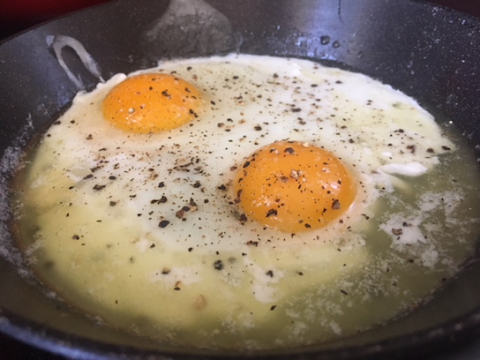 I plop the eggs-over-easy atop the potatoes. The melted butter used for frying the eggs coats the potatoes that I've already chopped in the bowl. I add a scoop of plain, nonfat Greek yogurt on the side - and to me, it tastes like I've just smothered my potatoes in butter and sour cream! Wonderfully sinful! I add chopped cherry tomatoes for color, a glass of juice. And I have the PERFECT meal! It never fails to please...
Delightfully, my client Barbara made the dish with steak instead of eggs and lost weight the next day!
The simple things in life are often the best! Don't you agree??