Lunch with Hugh Jacobsen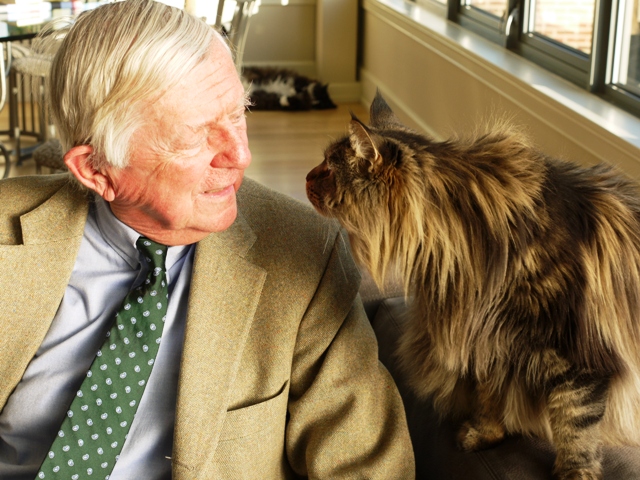 After apologizing for my Manchester Tan walls, baseboards, moldings and free-standing bookcase, I was ready to invite Hugh Newell Jacobsen into my home. I have a lot of windows and there was no chintz, so I hoped he'd be ok.
As we sipped wine and dished over crab cakes, Baci and Calin, my two Maine Coon cats sat side by side, heads tilted up hanging on Hugh's every word. They sensed this was no ordinary visitor. Having seen Georgetown change over five decades, I was curious what he thought. "It's not changed that much", he said. As do I, he regrets the loss of so many local shops and parking spaces. "We should plant more trees and ban SUVs", he said. I like that. We agreed that Sea Catch in Canal Square, with its fabulous outdoor dining along the canal is a neighborhood treasure. He also likes La Chaumiere and Bistrot Lepic.
Image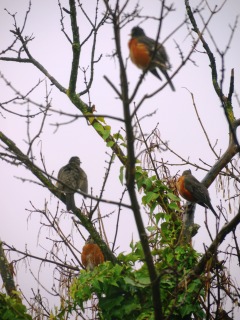 From local French restaurants to Provence, where Hugh and his wife Robin of 57 years, have enjoyed many a summer, our conversation turned to the beauty of France. I was delighted to learn that he agreed that Le Corbusier's chapel of Notre Dame in Ronchamp, or as Hugh calls her, "the nun's hat", is one of the world's best buildings he didn't design. Boxwood Winery in Middleburg is a recent local project of Hugh and Simon. It was also a welcome respite from "doing all those kitchens and bathrooms", he confessed. The winery is a complex of four buildings: a reception for wine tasting; a fermentation chai with 13 custom designed stainless steel fermentation tanks, a bottling building, and a circular underground cave to house oak barrels. The design is modern, but materials characteristic of the 18th century rural area of Middleburg were chosen – fieldstone, seam metal roofs, and cupolas. Boxwood produces red wine only, blended in the French Bordeaux tradition. A dream of Rita and John Kent Cooke, they purchased historic Boxwood Farm in 2001 recognizing the great potential of producing premium wine in Virginia. Boxwood wine tasting rooms have been in Reston and Chevy Chase. Good news: they're coming to Georgetown soon. Let's drink to that! What's the best project for an architect, I asked."Art galleries", he answered. And Hugh has done them in Oklahoma, Greece, Paris, including a 1972 renovation at the Renwick Gallery here in Washington. Most of his clients buy into his projects "lock stock and barrel"; however, "some decorators want to make a statement within his statement", and so now he also offers Jacobsen-designed interiors, furniture and objects. What doesn't he do, I wondered? Cross Wisconsin Avenue more than necessary, that much I learned. As our visit sadly came to an end, I escorted Hugh out knowing we'd soon be waiting for our East Village robins to reappear on the tree I'm proud to share with him.
For more on Jacobsen's amazing work, visit his award-winning website designed by Simon Jacobsen, Hugh's son and partner: www.hughjacobsen.com