Logan Commission Backs GU Plan for Franklin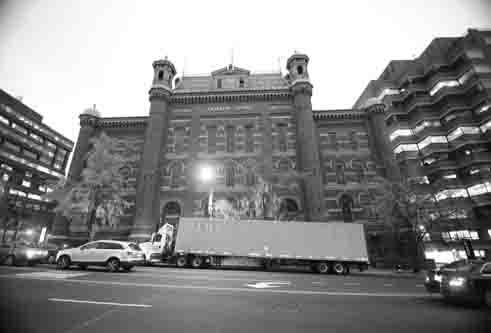 By Kelsey KnorpCurrent Correspondent
A plan to convert the historic Franklin School downtown into a satellite arts building for Georgetown University earned unanimous support from the Logan Circle advisory neighborhood commission last week, in a recommendation to the Office of the Deputy Mayor for Planning and Economic Development.
The proposal by Georgetown and development firm Thoron Capital was one of four presented last Thursday at a special meeting of the commission. Two other competitors floated ideas for turning the building into a hotel, while the third pitched an incubator-type co-working space.
The neighborhood commissioners ultimately agreed that the Georgetown plan seemed most sustainable, but they said a proposal by Friedman Collaboration for the Arts (one of the two plans incorporating a hotel use) would be a viable second preference. They recommended the development office request best and final offers from both redevelopment teams, as well as community benefit agreements, before making its decision.
All four teams are vying to redevelop the Franklin School site at 13th and K streets NW from the District, following Mayor Muriel Bowser's decision earlier this year to nix a plan that would have turned the building into a contemporary art museum. The bidder selected from the latest process will submit to a lease term between 50 and 99 years.
The university would retain much of the original interior design of the 1869 school building, including restoring staircases, trusses and the third-floor Great Hall, which would host performances and other public events. "We are essentially bringing it back to its purpose-built function as an educational and cultural institution," said architect Chris Graae.
Georgetown professor Anthony Cook described the proposed institution as a place that will encourage innovation and offer technological education as well as traditional engagement with the arts. In addition to hosting arts programs, Georgetown hopes to provide space for tech innovation, much like the start-up accelerator firms commonly found in Silicon Valley.
"We conceptualized this project as a 'Y-Combinator-meets-Juilliard,'" Cook said. "This is a space where technology, entrepreneurship, arts and media can all come together … in an exciting, innovative space."
The school's fourth floor would consist primarily of art studios, lit naturally by a lengthy skylight overhead. Lower floors would include classrooms for tech incubator purposes, as well as for community-based Georgetown classes that the public could audit. A courtyard at the building's rear would become a year-round multipurpose space, with retractable roofs to allow for outdoor exposure. Publicly accessible restaurants and exhibit space for students and local artists would be included on the ground floor as well, with views overlooking Franklin Square Park.
The Friedman proposal is similarly preservation-conscious but seeks to accommodate a wider variety of uses. Developers would outfit the building's middle floors with 15 hotel rooms, while the third-floor Great Hall would house a restaurant and art gallery. The fourth level would become a partially outdoor space for social gatherings and event rentals. A youth center for culinary education would be installed on the ground floor, and remaining space throughout the building would be converted to rentable offices or used to accommodate spa and fitness amenities.
Friedman's funding model would have visitors purchasing different levels of membership to access the various building amenities. The group did not give specifics but told commissioners that certain events and activities would be restricted to higher-level members, while features like the gym would be available at a lower cost. That strategy lost points with neighborhood commissioners, with some worrying that membership tiers may be too exclusive or prove fiscally unsustainable.
Aria Development Group presented a more traditional hotel scheme, augmented by a restaurant and bar. Dantes Partners, in collaboration with UberOffices, proposed a facility for co-working and small business incubation.
This article appears in the Nov. 18 issue of The Georgetown Current newspaper.