Local Shops to Celebrate 'Small Business Saturday'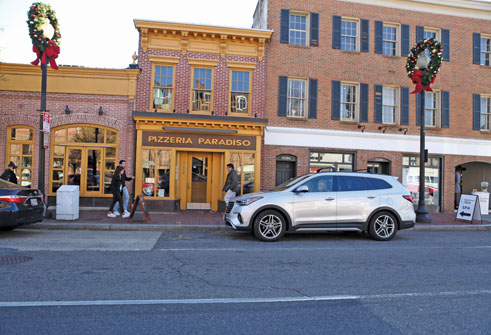 By Grace BirdCurrent Staff Writer
Stores and restaurants across D.C. are set to celebrate "Small Business Saturday" this week with discounts and giveaways, part of an annual event to encourage residents to shop locally.
Held the first Saturday after Thanksgiving every year across the country, the event is overseen by American Express as a way to promote the local retailers that bolster communities.
More than 70,000 small businesses currently operate in D.C., equating to 98.2 percent of the city's total companies, according to the U.S. Small Business Administration. In 2014, that translated to 240,441 jobs in the District.
Several Northwest business groups are participating in Saturday's event, including organizations based in Georgetown, Adams Morgan, Tenleytown, Van Ness and Shaw.
The Georgetown Business Improvement District plans to distribute 10 American Express gift cards worth $100 each for participating small businesses to provide as extra giveaways for lucky shoppers, according to Georgetown BID communications director Lauren Boston.
"Each small business has its own unique story," Boston told The Current. "They're the heart of Georgetown at the end of the day."
Nearly 30 small businesses in Georgetown have signed up to participate Saturday, offering discounts and freebies to shoppers. District Doughnut, located at 3327 Cady's Alley NW, plans to give away "funfetti" doughnut bites; Pizza Paradiso at 3282 M St. NW is set to sell $4 draft beers, $6 glasses of wine and various discounted food items; farm-to-taco restaurant Chaia, located at 3207 Grace St. NW, is offering a complimentary side dish with every Taco Trio purchase; and secondhand retailer Christ Child Opportunity Shop, 1427 Wisconsin Ave. NW, will offer 10 percent discounts and host a jewelry trunk show. "Anything we can do to help provide a little bit more coverage, we just like to participate," Christ Child's Kelly Gotthardt said.
The consignment store provides another reason to "shop local," as its proceeds go toward programs supporting District children in need, Gotthardt said. "We hope to improve the lives of kids who need attention, who need help," she said.
Many local retailers in Adams Morgan are also partaking in Saturday's event. For instance, Idle Time Books, which has operated at 2467 18th St. NW since 1981, is offering patrons who spend $25 or more a canvas gift bag.
"Adams Morgan is a wonderful place for shoppers to find the unique items on their list," Rachel Davis of Adams Morgan's BID told The Current. "We have hundreds of small businesses that offer things that you cannot find anywhere else."
Susan Lihn — co-chair of the Cleveland Park Business Association and longtime owner of gift shop Wake Up Little Suzie, 3409 Connecticut Ave. NW — said in an interview that running a small business can be difficult but that Small Business Saturday has helped.
"It's just a fun day in the store — people like it, they come because they want to support their local businesses," said Lihn. "I think it's fantastic."