Local Partnership Helps Fight Kids' Summer Learning Slump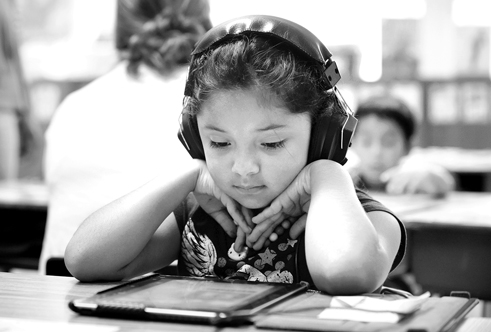 By Kat LuceroCurrent Staff Writer
Since launching in D.C. in 2010, Tales2Go, a mobile app service that streams children's audiobooks, has expanded to classrooms and homes all over the country, and won several parents-choice awards. But this summer the educational company is focusing on a goal close to home.
During the vacation months, Tales2Go has been working to help shrink the opportunity gap for some students just a mile north of its Foxhall headquarters.
At St. Patrick's Episcopal Day School, where a summer enrichment program serves economically disadvantaged students, participants can access a wide variety of Tales2Go titles such as "Little Women," "The Hunger Games" and "Pete the Cat."
By partnering with the enrichment program — called Horizons Greater Washington — Tales2Go is working to help prevent the academic learning slump known in the education world as "summer learning loss." The loss is prevalent among students who have little access to educational programs outside the regular academic year.
Tales2Go CEO William Weil has always wanted his tool to be used in all types of classrooms. Through the Horizons collaboration, he said, his service is helping "kids who normally don't have certain kinds of resources push them along in their reading."
Weil, a former television executive at National Geographic and Nickelodeon, co-founded Tales2Go with his wife, Tracey, to make their children's learning experience easier and more engaging. According to the Weils, listening to audiobooks improves a child's ability to listen, comprehend reading materials, build a vocabulary and pronounce words.
In the past three years, their product has become a popular education tool, merging the traditions of storytelling with today's newest mobile gadgets.
For Horizons Greater Washington, the new partnership with Tales2Go helps "build [students] up and then augment them with an enriching experience," said the program's executive director, Maria Barry.
Horizons is a nonprofit that has been helping students from low-income families maintain and improve their academic outcomes since 2000. Currently, it partners with three private schools — Maret, St. Patrick's and Norwood in Bethesda — to host summer and yearlong programs for students attending local public elementary schools H.D. Cooke, Bancroft and Rock Creek Forest. For the summer, the nonprofit offers six-week programs with a mixed curriculum of math, art, reading, writing, field trips and recreation.
Head teacher Katherine Orlando's students — who will be entering third grade at Bancroft Elementary in Mount Pleasant this fall — are among the first in the Horizons summer program to experience Tales2Go.
During a 30-minute scheduled reading session, Orlando sets up three rotating learning stations. At these areas, each group of five students spends 15 to 20 minutes working on reading and comprehension skills with Orlando or an assistant teacher.
One of these stations is an independent listening section, where students can hook up headphones to an iPhone, iPod or iPad and tune in to their chosen story, streamed from the Tales2Go app.
Some students have also opted for listening to audio stories during non-scheduled learning times such as breakfast at school or on the bus, said Orlando.
A student who was bored on the bus even asked his teacher if he could use her iPhone to listen to "Zombies Don't Play Soccer" from Tales2Go. Orlando said she was glad to oblige.
"I like Tales2Go because I like to listen and imagine the pictures in my mind," said Joshua Kiprono, 7.
Some of his classmates attest that using Tales2Go also helps them understand the context of their books. "It helps you read fluently," said 7-year-old Alfredo Ortiz-Hernandez.
Although a thorough assessment of the partnership won't occur until after the summer program is over, Orlando said she thinks her students are understanding their reading material much better now that they're listening to assigned books on a regular schedule.
"Sometimes you spend so much time teaching them just how to decode a book that you're not working on their comprehension skills," she said. "This has been a great tool to help them with their comprehension skills."
This article appears in the July 31 issue of The Georgetown Current newspaper.