Local Marine Runs 65 Miles for Cystic Fibrosis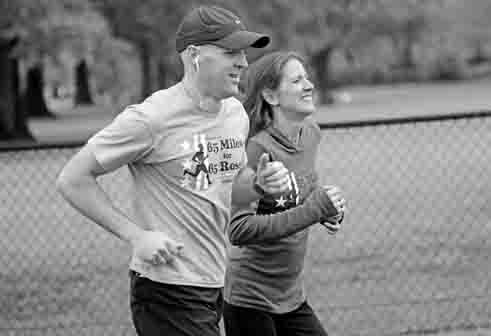 By Kat LuceroCurrent Staff Writer
Jesse Sjoberg had a bleak start last Saturday in his quest to run 65 miles.
The dark skies poured chilly rain when he left his Palisades home around 4 a.m., posing a new hurdle for someone accustomed to running the monumental distance in warmer and drier weather.
But the conditions didn't thwart the 42-year-old Marine, who recently relocated from San Diego. Rain or shine, night or day, overseas or stateside, he had vowed to take on the challenge for his wife, Jacqui, 36, who was born with cystic fibrosis, a rare genetic disease that affects the respiratory and digestive systems.
"This is to show her and the boys to never give up. You keep going," said Sjoberg, referring to his sons, Hunter, 5, and Aden, 7. "It's been a rewarding experience."
Over the past four years, Sjoberg has tackled this distance in an event he created that's now called "65 Miles for 65 Roses." The name dates back to the 1960s, when a young patient mispronounced "cystic fibrosis" as "65 roses," which is now used as a benign-sounding moniker.
Since the event's founding, he and his family have raised around $72,000, according to Denise Brownlee, executive director of the Cystic Fibrosis Foundation's D.C. chapter. And they did so with Sjoberg as the sole participant.
"It's phenomenal," said Brownlee. "What Jesse proves is that grass-roots funding works."
Established in 1955, the donor-supported foundation has raised and invested hundreds of millions of dollars to develop treatment and find a cure. The organization estimates that 30,000 children and adults in the United States have the disease, with about a thousand new cases diagnosed each year.
When Jacqui was born, she wasn't expected to live past school age. Thanks to recent medical breakthroughs, she's thriving.
"I do what I can," she said. "I still exercise. I'm just not as fast as everybody else. I cough a lot. I have to catch my breath a lot. But we're doing OK. You've got to keep trying."
For its fourth season — the first time in D.C. — Sjoberg's run has raised more than $13,000, according to the foundation's website tracking his donations.
The family moved here last July from San Diego, where the ultrarunner took on the challenge amid clear and sunny skies for two years, sometimes drawing local news coverage and inspiring other cystic fibrosis patients to see how far they could run alongside him.
He originally got the idea for the event when he was based in the Persian Gulf. Since he missed a Great Strides three-mile walk organized by the Cystic Fibrosis Foundation, he challenged himself to run 65 miles. Accompanied at times by colleagues, he ran around a 1.25-mile loop 52 times inside a U.S. military base in Bahrain.
On Saturday, Sjoberg first ran to the National Mall and then headed to Hains Point to make several loops around the southern tip of East Potomac Park. For some lengths, he had running partners. His two brothers joined him for portions, while Jacqui, Aden and Hunter briefly ran with him in the morning.
Before 2 p.m. with still overcast skies, Sjoberg was accompanied by one brother on a bike and a former roommate at the U.S. military base in Bahrain. In good spirits, he was approaching 45 miles, according to his GPS watch.
"Trust me, it won't be this good for the rest of the run," he said.
He finished in 13 hours, 17 minutes and 27 seconds, according to the run's Facebook page.
Sjoberg hasn't always been a runner, starting sometime after he met Jacqui. He said he was aware of her condition before his brother introduced them. But they say "it was love at first sight." The couple has been together for 16 years.
"He's been amazing support with everything," Jacqui said. "He's been fantastic through hospitalizations and weeks of IV treatments. Now he's doing these runs for me.
"It started off with [the idea] that when I got bad enough, he could at least do a lung transplant and donate part of his lungs to save me. That was his whole reason for running years and years ago. Now he likes the challenge of how far he can go," she said.
This article appears in the Oct. 15 issue of The Georgetown Current newspaper.