Local Graffiti Artist Debuts in Georgetown for FAD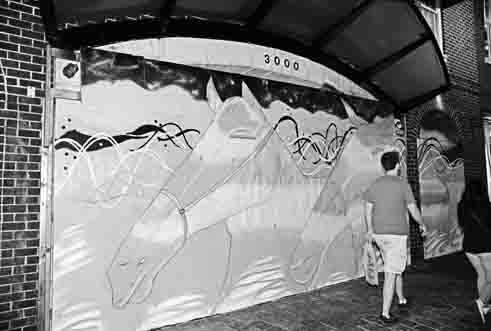 By Kat LuceroCurrent Staff Writer
Local artist Kelly Towles likes to root for the underdog.
So when he thought about a subject for a Georgetown public art project highlighting the C&O Canal, mules came readily to mind.
"They put in the work," Towles said of the horse/donkey hybrids that 19th-century operators used to pull the boats and barges along the shipping canal.
Now a pair of his colorful mules adorn the boarded front entrance of the shuttered Latham Hotel at 3000 M St. He started and finished the project last Saturday as part of the second annual "Fashion Art Design" event, which also featured a D.C. premiere of the aging-in-style documentary "Advanced Style" and a performance by Christylez Bacon, a Grammy-nominated hip-hop artist and Duke Ellington School of the Arts grad.
The daylong "FAD Georgetown" was put together by the local business improvement district, which also tied in part of its "Georgetown Gongoozlers," a six-month-long public art project. Since August, three local artists have showcased their original pieces about the C&O Canal in the same location.
Towles is the project's third artist. And for this street painter, the mural gave him an opportunity to debut in Georgetown, a more established, clean-cut neighborhood than the up-and-coming locations where he has previously worked.
Last year, he helped enlivened the facade of an empty federal property near the Washington Navy Yard in Southwest, which eventually was torn down to make room for a newer office building. And in 2010 he created a larger-than-life mural called "Scout" near the U Street corridor featuring anime-looking characters.
Towles' art has also appeared at some of the city's new restaurants and bars. He was invited to participate in the Georgetown public art project by business improvement district officials who have become familiar with his cutting-edge work, which he partly describes on his website as featuring "striking characters with physical deformities."
Last Saturday, he spent almost the entire afternoon creating the large upper bodies of his whimsical mules.
As he worked, Towles listened to the heavy metal tunes of Deafhaven on his white earphones as Georgetown shoppers, carrying bags from high-end shops such as Coach and Michael Kors, passed by, watched him paint and snapped pictures. Some children even sat behind him, mesmerized by the artistic display.
"It's crazy that they let me do this," he said as he was wrapping up early Saturday evening.
Before Towles, two artists had already created and displayed murals on construction barricades at the same spot on M Street.
Nena Depaz's mixed-media work, which includes materials collected from the canal's towpath, was on display from Aug. 1 to Sept. 4. Next up was Georgetown resident Sidney Lawrence, who created a black-and-white cityscape of the neighborhood with the canal depicted in blue and red. His mural was displayed until Oct. 15.
Towles' work will be on view until mid-November. Following him will be Ekaterina Krupko, whose piece will remain until early January. Each installation will then be auctioned off to help revitalize education programming for the C&O Canal and contribute to the construction of a new barge.
This article appears in the Oct. 29 issue of The Georgetown Current newspaper.