Local Businesses Brush Off Blizzard to Serve Neighbors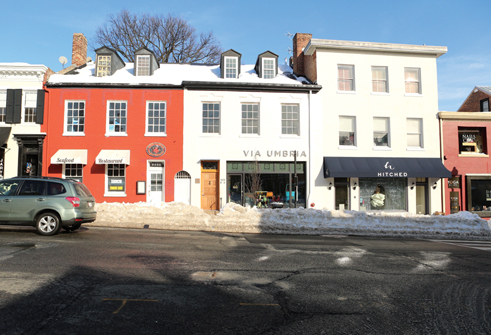 By Mark LiebermanCurrent Staff Writer
Justin Anderson's tiny basement apartment in Tenleytown was filled with four of his colleagues on Friday night. One person slept on a futon, another on a couch. Two more rested on air mattresses.
"It's not the biggest in the world, but we make it work," said Anderson, manager of Osman & Joe's Steak 'n Egg Kitchen at 4700 Wisconsin Ave. NW, which promises 24-hour service in all kinds of weather.
Steak 'n Egg was one of numerous local businesses that kept their doors open during the weekend blizzard that blanketed the city under 18 to 24 inches of snow. Anderson's colleagues stayed with him overnight so they could make the mile trek to the restaurant for work.
The tight squeeze paid off, Anderson said — as of early Saturday afternoon, during the height of the snowfall, between 40 and 80 paying customers had already come in, ranging from snowplow operators to the usual types of passerby. Even the looming threat of a power outage (which never materialized) didn't faze Anderson, who noted that the grill and other appliances don't require electricity.
The restaurant has built a reputation in the community for reliable, consistent service, and Anderson wasn't willing to let a snowstorm ruin that. "As long as we can see, we can work," Anderson said.
The story was similar at Glen's Garden Market at 2001 S St. NW in Dupont Circle. Owner Danielle Vogel told The Current she was manning the cash register all day on Saturday alongside four other employees who live near the store.
Some of the market's prepared food options had to be reduced because of the storm, but brunch continued to be served and groceries sold. The store's Shaw location was also open on Saturday, with only the three managers behind the counter, Vogel said.
In Dupont, Vogel walked to work from her home a block away, knee-deep in snow. As far as she could tell, her store was the only one on her block to open.
"Everyone's really happy that we're open," she said. "It kind of feels like a ski lodge."
Over by the National Zoo, the cake pop joint Baked By Yael, 3000 Connecticut Ave. NW, briefly turned into an actual ski lodge. Owner Yael Krigman said one customer, a woman, bought a few cake pops to go and then headed out of the store — on skis.
The snowstorm cut into the small pastry shop's sales, which have been booming thanks to the public debut of panda cub Bei Bei at the Zoo. But Starbucks down the street was closed on Saturday, so Krigman snapped up customers looking for a hot beverage.
Like Anderson and other employees who made it to work, Krigman hoofed it — her home is a few blocks away.
"It was not that bad. To be honest, I was just really excited about being able to open," Krigman said. "It didn't really bother me."
But walking-distance proximity wasn't a factor for every business owner who decided to stay open. William Kim, owner of the Mac Market convenience store and deli at 5185 MacArthur Blvd. NW in the Palisades, lives in Reston and kept his store open on Friday, Saturday and Sunday.
Driving home each day was impossible — Kim tried to take his vehicle out to the road at one point but got stuck in a snowdrift, his tires barely touching the ground. For both Friday and Saturday nights, he slept on a small bed he'd previously installed in the store's office for such purposes.
For Kim, there was no question about staying open. He said he hasn't closed Mac Market in the 11 years he's owned it, and had no plans to break that streak for this storm. Customers came in on all three days, knowing the market would be open without having to check.
"The neighbors know that I'm here," said Kim. "They get used to it and they expect me to be here."
Meanwhile, some newer businesses used the snowstorm as an opportunity to get more acquainted with their neighbors.
In Georgetown at 1525 Wisconsin Ave. NW, employees at the Italian deli and wine and beer shop Via Umbria stayed at the nearby Georgetown Inn on Friday night so they could get to work safely on Saturday morning.
Via Umbria debuted in its current location two weeks before Thanksgiving, so this blizzard was the store's first opportunity to establish itself. "We weren't sure what today was going to look like, but we wanted to make sure we could experience it," said Lindsey Menard, the store's hospitality and events manager.
Despite the dangerous weather conditions, Menard said she had a steady stream of customers on Saturday, as well as a large crowd on Friday night, during the first blast of snowfall.
"It's been really interesting today. It's fun because we get to see a lot of the neighbors who would usually be working or busy today," Menard told The Current on Saturday.
The nearby juice and taco bar Jaco, 1614 Wisconsin Ave. NW, is even newer, having opened just two weeks ago. Owner Chris Luceri said two colleagues stayed with him at his nearby home in order to stay open and try to lure new business to the fledgling store.
"We had nothing better to do," Luceri said. "We figured we'd give it a shot, and so far it's definitely paid off."
Luceri says he also gave out free hot chocolate to visiting patrons.
This article appears in the Jan. 27 issue of The Georgetown Current newspaper.